Obama eats with Arroyo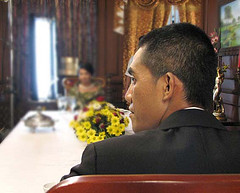 Philippines
January 9, 2009 7:09am CST
Obama paid a quick courtesy call at the Malacanang palace and takes some time to eat with our dear President Gloria Macapagal Arroyo. [dinner scene] Obama: Thank you for a lovely dinner Arroyo: oh were not done yet. try our kare-kare. it's oks. Obama: okay sure. Arroyo: ginataang mais. its corn, but we use our coconut. Obama: oh alright. ummm. oh shows pain in the stomach due to overeating Arroyo:oh my gash that's impacho na. dyspepsia yan no! andami mo kaseng nakain no. ang motillium! bilis! impacho will disappear in 30 minutes no? [Oh my gash that's already impacho/ dyspepsia. You already overeat. Get the motillium quick! Dyspepsia will disappear in 30 mins.] Arroyo:[offering Obama a cup of coffee] kapeng baraks? ---not! This script is based from a TV commercial shown here in the Philippines which will strike you at first sight because it has the US President elect Barack Obama and Philipine President Gloria Macapagal Arroyo (PGMA)in it. For Filipinos, we already know that the one doing the ad is not really PGMA but when we look at Obama, we never fail to think again, and again, and again. IS THAT REALLY OBAMA? HECK THAT PERSON LOOKS EXACTLY LIKE HIM!!! Oh well, maybe not exactly but he do resemble Obama but as you see the ad again and again, you can see that he has the Asian touch more than the African-Caucasian. I just read in the Philippine Star, a local newspaper, that the one impersonating Obama is actually, not a Filipino but an Indonesian. I must say that this TV AD has very creative staff behind it. I salute them for this creation. HANDS DOWN TO THEM. BTW, the tv ad can be seen in youtube. Just type BARACK OBAMA MOTILIUM COMMERCIAL
2 responses

• United States
9 Jan 09
Hello mskzalameda! I have also watched the commercial and at first I really thought it's Obama. But then when I really looked at him better, I knew immediately that it's not him. He is just Obama look alike. I am amazed you found those details about the commercials. You did a good research.

• Philippines
9 Jan 09
Yes the moment we see him again and again, we realize its not the real. It is said in the Phil. Star article that the Obama lookalike is a photographer by profession and hardly speaks English. Well, I am watching the commercial on youtube while typing on this one hehehe


• United States
9 Jan 09
hehehe..well, it seems that it's your favorite commercial now.

• Philippines
9 Jan 09
Yes it is. MWAHAHAHAHA I really love the concept. Very original.



• Philippines
5 May 09
I had seen that Motilium commercial. I admired people behind that because they made the impersonator look like the original one. I also learned hat Obama impersonator is not Filipino but an Indonesia. One of the ideal commercial I ever seen.