Where's the "nut" in Choco Butter Nut?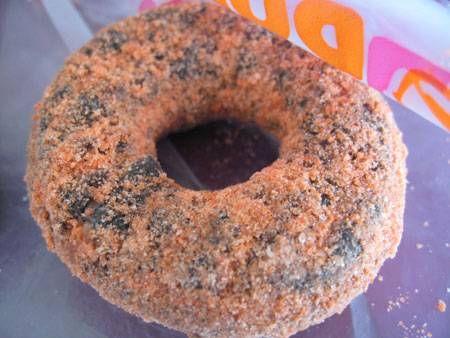 Philippines
6 responses

• United States
12 Jan 09
LOL good point...I think it may just be the name of it...I mean Choco Butter by itself would just be lame...but it is tasty either way.


• United States
12 Jan 09
let's not go that far...may not buy it then



• Philippines
12 Jan 09
some of us have favorite dunkin' donuts flavors already. so when we go there, we will no longer take a look at the new products being introduced. we simply place an order for those favorites. that's how i do it if i am bringing some home for my sons. it is good that this new product is being talked about here. now, i might try this choco butter nut. a few pieces will surely do. one for each of us is good enough for testers.

• Philippines
12 Jan 09
it has been a long while since i have eaten some dunkin' donuts. you remind me of this, modstar. as for the nuts in choco butter nut, there are some possibiiities why you can't find them there. if they have used dessicated coconut as the ingredient nuts, then if the coconut bits are well blended into the dough, then there is no way that you can have any sight of them. now, if they have tricked the name only, then there are definitely no nuts there at all. that is, instead of naming it choco butter dough nut, cutting out the dough in the name of the product will make it more intriguing. the eater believes there are nuts mixed in the dough and not find it, so the eater chews on it well and good hoping to have some good bites of the nuts. in the process, the eater gets excellent bites of the product and thus, will even appreciate the food even more. no matter what the reasons are, the best thing about it is, as what you say, the great tasting dough nut that they have to offer.

• United States
12 Jan 09
I hope your happy now...I am hungry

• Philippines
13 Jan 09
Hahaha

You do have a great point here. Nice one. Choco butter nut's one of my favorite donut from dunkin, and I never even wonder why it was named so and where is the nut on it. I remember eating that donut last week and now I am trying to recall if it has a nutty taste or what, (gotta buy a dozen of choco butter nut later!!!!

) Thanks for the discussion, it made me laugh.



• Philippines
12 Jan 09
yes it is somewhere in theingredients... you might know it is a grinded thing sprinkle all over it...