Do you like turkey sausages?


Canada
January 12, 2009 6:03pm CST
Have you tried turkey sausages in place of regular pork of beef breakfast sausage? Do you like them? I have been buying these for a while now and I actually prefer them to other sausages. They have less than half the fat and they are very moist without being greasy. They also have a great texture. If you have never tried them I definitely recommend them. Have you replaced anything else with turkey (like ground beef)? Any suggestions?
3 responses

•
13 Jan 09
Hi ya jesssp Hmmm turkey sausages eh? I can't say I have ever heard of these and I don't know if they have reached the shores of the UK yet I will have a look the next time I am in the supermarket doing my shopping!! I too have exchanged turkey meat for other meats, my kids haven't noticed the difference yet!

. Not only is it healthier but here it is much cheaper too! Thanks for telling me about these sausages though I will definitely have a look for them!


• Canada
13 Jan 09
They seem to be common here and reasonably priced. I have started putting ground turkey in things like tacos and spaghetti and once you get all the sauces and seasonings in there you can't tell the difference at all. Sometimes for tacos I'll mix half brown rice and half ground turkey together with taco seasoning for the filling. Use light cheese and sour cream, whole grain tortillas and lots of veggies and it's practically health food!

• Philippines
13 Jan 09
I love turkey sausages! I like them better than hotdogs :D And you're right about it being more healthful (though that doesn't necessarily mean that it is actually healthful by itself) than regular sausages. I don't like greasy food but I like sausages so turkey sausages is like how I meat my cravings half way :D Thank you for the response on my discussion!

• Philippines
19 Aug 11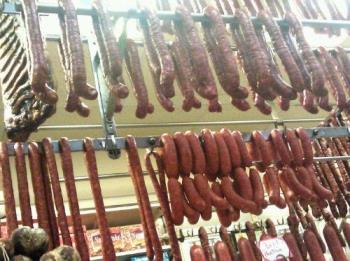 Turkey sausages! Well it sounds healthier than the ordinary pork or beef sausages because as you said it has half the fat and hence they are not as oily or greasy. Nevertheless as I think deeper, it still not healthy at all because just as all kinds of processed meat, it contains that dangerous food coloring or preservative substance called sodium nitrate. This is highly toxic and though you can't die immediately when you consume it with processed meat but through the years of constant eating foods containing this substance, there will be harsh effect on your health for sure. Cancer is the number one disease found in many folks today because of consuming processed meats preserved with sodium nitrate so beware of these sausages, hotdogs, ham, bacon, salami, peperoni and the like lest you end up either in the hospital or in the grave.