What is the best anti -virus or anti malware???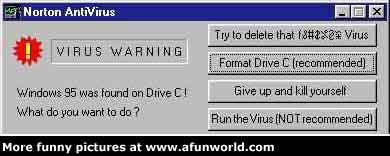 Philippines
January 14, 2009 8:18am CST
I am an computer user and internet user of course. I'm using windows xp and my computer has a well known AntiVirus Guard. ehehe! I like downloading movies and some software through the net. Recently I downloaded lots of movies and a video converter again, without knowing I was downloading something that has trojan and some viruses. So what happened is my computer started to run crazy and always prompt me to a website that states that my computer has a virus and trying to sell anti-virus. Few hours later my computer restarted by itself and after rebooting my computer doesn't have internet, it doesn't have audio and it looks like windows 98. What I did was I installed another windows and I installed a new version of this antivirus and It is a success. When I started to scan my pc lots of trojan and viruses were found. After a while my computer is clean again and ready to download new movies. EHEHEH!!!!! I want to have the best protection for my pc and I'm looking for the best antivirus. So what is the best anti virus for you???
9 responses

• Philippines
22 Jan 09
Hi Pitstryke, Im using AVG free edition. First of all, I like it coz its free and is upgradable without any cost involve. I find it strict enough to filter out threats in my downloaded file.

• India
18 Jan 09
well i am using NOD32 and i think it is very good quick heal is also a very good option use these if you want and you will feel relieved from virus. they can scan almost all type of virus. they have a very good firewall. and a spam filter which can be customized also to deep root

• Iran
17 Jan 09
For me the best antivirus is Eset Nod 32 without a doubt. First of all it is the most powerful antivirus in the world and its virus database gets updated everyday.Also it scans your PC in a very short time.It's not the fastest in the PC scanning but it's one of the top 3. At last it doesn't slow down your PC like some very resource hungry antiviruses like Norton. And I'm sure after using it just for one time you will use it forever.



• United States
15 Jan 09
You fell right into the trap of the virus. The window saying it's selling antivirus is part of the virus itself, once you install it you will fall deeper into the hole. I suggest downloading and running ComboFix. It'll clean your computer right up. As for a good Anti-Virus and Anti-Malware, I myself use NOD32 for my Anti-Virus and Spybot Search & Destroy for Anti-Malware/Spyware.

• India
14 Jan 09
i dont know whether you want a free version or paid registered version. if you are looking for a free version then you can go for any of these. (1)AVG (2)Avira Antivirus (3)Kapersky all these products are available for free downloads. i have tried all these.thay all are equally good and offer good protection. but for your information i am using Avira ........


• Philippines
14 Jan 09
hi pitstryke! I am also having problems like yours and also trying to find out whats the best anti virus or internet security on my computer. Right now I'm using AVG anti virus, I'm using this because it's free hehehehee!!! I'm also downloading movies and interesting stuffs in the internet. Base on your post I can see that your using a good anti virus software so my advice is better be careful on what you've downloading.