somebody said fresh carrot can be regard as ginseng,do you like to eat carrot?

China
6 responses

• Guangzhou, China
16 Jan 09
I don't think so. Actually we think the fresh carrot will reduce the effect of the ginseng. So if you eat ginseng, then it's better not to eat carrot after it. It depends how to cook carrot. If it stews with mutton, it will be very delicious. If it's raw, I am afraid I am not interested in it. I love China




• China
16 Jan 09
great!different opinion.that's good.........

• Philippines
15 Jan 09
Hi machel2008! I have been eating fresh carrots once in awhile and my mother used to tell me that carrots are very good for the body. From what I know and from what I have searched, these are some of the benefits of eating carrots: 1. Carrot is energizing and is also an antiseptic 2. Eating carrots will encourage healthy skin, hair, bones, eyesight and will also cleanse the body 3. Another benefit of carrot is on people with heart problem. Carrots may reduce risk of heart disease and certain types of cancer Take care and have a nice day! lovelots..faith210

• China
16 Jan 09
yes,right,carrot is very good for our health........i like eat carrot.....happy mylotting........

• Bangladesh
21 Jan 09
Yeah, a very good one the fresh carrot but I am not sure about it to be considered as ginseng. As far as I know Carrots are full of Vitamine A and beta carotene so it is very very helpful to our eye, especially for our childs. Though childs are not able to eat it raw then more benefit as juice. Normally if we eat a carrot whole as raw we can consume only 1% percents of Vitamine and beta carotene but as juice we can consume 90-100% of them. Juice of carrot a powerful tonic. It increase immunity. Actually two glass of carrot juice everyday can increase 70% of your immunity. As being an anti-oxidant beta carotene prevent cell degeneratio of our body and this way prevent aging. It is renowned that carrots has anit-carcinogen properties so it helps us to prevent cancer. Carrots are good for our skin too. It is also full of menerals. Have Carrot as a nutrient rich fruit or root. [IMG]http://i566.photobucket.com/albums/ss103/MdImranHossain/220px-Carrot.jpg[/IMG]

• China
21 Jan 09
thank you my friend,carrot is good for our health.........

• Bangladesh
21 Jan 09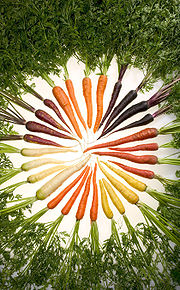 Yeah I have to salute you that you have selected my one as the best response. I have tried from my best you have evaluated it thats your greatness. I have attached a good images of Carrot from Wikipedia. Enjoy it.

• United States
19 Jan 09

The thing about carrots is that my son likes them with some ranch dressing on them. I don't really like raw carrots. I usually like them when they are in a beef roast with other vegetables such as potatoes and onions. It seems tastier when carrots are cooked in my opinion.

• China
20 Jan 09
good,if you think delicious then that's the right cooking way.........


• United States
5 Feb 09
i do like carrots & have eat them all my life. always heard they would make u have good eyrsight to but that's not true. mine is terrible.