Does anyone has any ideas on what I can do.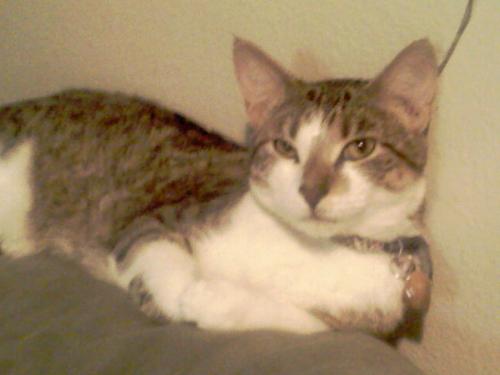 United States
January 15, 2009 2:14pm CST
I have this really beautiful cat her names Alexia and I may talk about her like every once in awhile. I want her to have her freedom to roam about the house and have fun and stuff. But she is always getting visitors. And what I mean by visitors, she gets visits from outside cats. The cats come up to the window were Alexia hangs out at. My husband and I are worried that, the cats from the outside might be trying to scratch through the screen to get to her or she may be triying to scratch through the window, wall or door to get to them. Is there a way that I can keep the outside cats away from her window and door or is there a way that I can keep my cat away from the window. She enjoys her time at the window. The window is a long window and from the outside it has a screen from the glass. There is a bit of wall were maybe she can try and scratch through or bite through and that is something we don't want her to do. The door is made of glass and we have like a patio we live at an apartment and some how the cats from outside are getting smart and jump over the fence and onto our patio and coming up to the door and Alexia will run to the door to see the cat. What to do. Can anyone help.
5 responses

•
15 Jan 09
Well, cats are naturally curious, and if they see another cat, they are likely to show great interest. However, You don't say if she has been spayed of not because if she has not been, then she'll be attracting all the neighborhood tomcats and that may be the cause of the problem. The solution in that case, will be to get that done, that should stop the unwelcome attentions.

• United States
15 Jan 09
She has been spayed, but the cats still come around. I adopted her from an animal shelter and they made sure she was spayed before she came home with us.


• United States
15 Jan 09
Yeah she is. There are so many stray cats around. And all of them come visit her.

There is always a new cat every day.


• United States
16 Jan 09
I have much the same problem except for the screen. I just let the cats look at each other and soon one gives up and comes back the next day for a little while. As for the screens, I'd take them out if they have claw holes in them and possibly do something like caulking on the wall to help prevent her from scratching there.

• United States
16 Jan 09
I will definitely give that a shot thanks. But about the screens, I rent at the apartment and not sure I would be allowed to remove them.

• Garden Grove, California
12 Jun 16
If she is spayed then I hav en no idea hope someone else can help you

• United States
19 Jan 09
First has she been neutered? If not that your problem. If she has been neutered then maybe you should get her a playmate. Another cat for her to have company. She sounds lonely. There may be a problem in the beginning over territory but that will soon top and I bet you will see a much more happier cat.