ciao is down again... (reload)

Philippines
10 responses

• Indonesia
16 Jan 09
I just know that ciao was down last night. I was rating some reviews and suddently, my ciao page cannot load completely. it was like the java script cannot load, so all the links on the page are not working. this morning i tried it again and still not working. just now, i saw the temporary not available sign. anyone else experience this yesterday up to this morning? Or it just me. Anyway, i sent an email to ciao to inform them this matter, just in case, it's an error on my account only.

• Philippines
16 Jan 09
this is the second time that ciao is down after last night or i guess its morning already, but the down time was just around 30min or less

• China
16 Jan 09

yes, the same situation happened several times, but it is also a good site than the others ,and it could pay us in time

• Philippines
16 Jan 09
hi sis, good to see you here! i hope that the downtime won't take long.

• China
16 Jan 09
i think they are only down just recently cos i was still surfing the site about 3 hours ago. they were down for a while last night for some updating and i was aware cos i was caught in the mist of doing some reviewing of other members' reviews. Then it came back about an hour later and i was working on it till midnight. This morning when i woke up, it was accessible and now after seeing your thread, i did a check and they are down. But no worry cos they are a reliable site esp after i had received payments from them about 2 days ago.

• Japan
16 Jan 09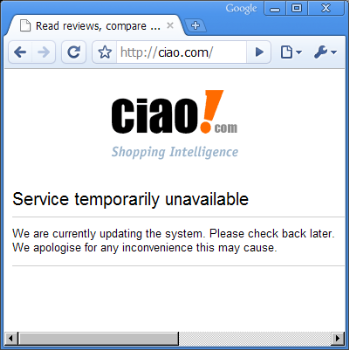 Is this the first time ciao became unavailable for this long? They went down yesterday and today. I hope spammers and unhelpful members is not causing this.


• Philippines
16 Jan 09
Is that always happening at Ciao these days? I wasn't able to log in at Ciao for these fast 2 weeks because of my internet problem. Hopefully it was only for temporary and they will be back again. Ciao is still one of the best paying site we have in the net. Even now that they removed their pay per review program we can still manage to earn and received monthly payments from them.


• China
16 Jan 09
I cannot open this ciao site, either. It seems not to be stable. Can we really make money from ciao?


• Australia
16 Jan 09
Hey, Yea most sites have downtime but don't worry, they will be up again probably in a matter of minutes...or days! Just have patience, I also know that I lack patience. "Patience is the key to success". Happy MyLotting everybody!


• India
16 Jan 09
hello friend yeah you right but what to do in that case because even now its down and its said the same thing temporarily unavailable,you know more site which pay us for review,if you know please do tell me ok .thanks.....regards shaveta