a kids fight!!!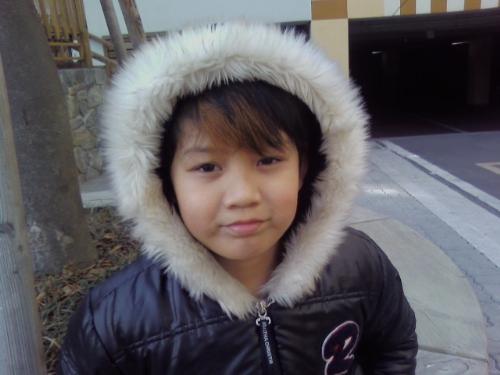 South Korea
January 16, 2009 1:11am CST
last night..my 9 yrs. son wanted to eat noodles so he get one pack of noodles for him to eat,then his 19 months old sister want to get his noodle too..they are fighting over it..then i scolded my son coz he is bigger..my son didnt get what i wanted him to do,he told me that i love his sister more than he is...he go outside without wearing his jacket so i was worried and told my husband to look for him..luckily our apartment can see the person on the playground thru the tv,monitor so i saw my son on the playground..and i called the security guard to get him..when my husband come back he ask me about our daughter..we search the whole house but we cant find her until i went to the store room she was hiding behind the door she was eating the noodles..i thought everything was settle down when my son come back.. my son just seat at the floor to watch tv..finally his 19 months old sister get her feeding bottle and smack her brother on the head..it was a very stressful situation..but it was fun somtimes..how about you guys, how do you handle such stressful situation..for your kids..plz share
8 responses

• Nepal
20 Jan 09
hi marketing, fight starts with bro,and sis and ends in love and caring.That good.:)

• Malaysia
19 Jan 09
Hi there, it seems to be quite difficult to handle more than a kid at home, right? I have not experienced this situation before, as I am still not a mother yet, I am a mother-to-be.

But, one thing I actually do not really like the parents do is, they always thought the elder should give everything to the younger, even though the younger is demanding too much. I understand your concern, as your son is already 9 years old, and he should take care of the younger sister. But if you scolded him, and it seems like he really got hurt, perhaps you always show that you love the younger sister more than him. Sometimes, that's how the older get hurt and start to be jealous, and maybe the younger will take more advantages of it. This may affect their relationship actually. I always thought about this kind of situation, and told myself when I have my second baby, I will educate my first kid well, and tell him that I will still love him as much though he will have a younger sister or brother. When they fight, it's good not to be bias. I understand it's easier to say then to do, but I really hope I can do this, as I think my mom was doing the right thing, as my brother didn't bully me at all.


• South Korea
19 Jan 09
hello kaka, yes youre right..but such jealousy i think is part of kids life..my son can help me look after his younger sister..but their are times that i very hot to handle..

..maybe this is a part of being mother

..thanks have a nice day

• Philippines
17 Jan 09
I don't have any child for now but maybe in the future.. Well, I find it interesting with your topic.. Even though I don't have a child, I have experienced this kind of situation many time already to my nieces.. My older sister have a daughter.. Her daughter was my first niece and of course first grand daughter.. So, all the attentions were given to that child, her name is AJ.. After 4 years, my older brother had his first daughter and her daughter was my 2nd niece... When his daughter came into our house she was still 4 months old and all of us were really excited to hold and play with her even though she's still a baby.. The whole family attention were changed to the new baby.. Of course, we still give same attention to AJ just like before but she felt that nobody loves her anymore since the day that my brother daughter name Kate came into our life.. AJ at first don't like Kate because she was thinking that we don't love her anymore and her grand parents don't give too much attention to her.. However, the truth is AJ gets more attention than Kate because we know that she might get jealous with Kate but even though all of the attention were to her she don't want any of us to get closer to Kate.. Well, we tried to explain to her that we love both of them and she shouldn't hate her cousin.. In some situation, she likes Kate but when it comes to her toys and Kate toys, she don't want to let Kate borrow her toys.. And sometimes she was letting Kate cry.. She sometimes quarrel Kate especially if she saw that we were playing with Kate.. Ir sometimes irritate me but I'm trying to understand the situation.. At present, I'm staying already far from home together with my older sister and her daughter AJ.. Now, AJ is already 6 years old and Kate is already 2 years old.. But AJ still hate Kate sometimes because she was thinking that now she is far away from her grandparents they don't love her anymore just like before since Kate is living together with my parents.. When everytime we make a long distance call from home, AJ really hate talking with Kate... I don't know why but she hates talking with her cousin.. She will just talked to her grandparents but never with Kate..

I just hope that when we came back home, everything will be find.. Well, I admit that its very hard since both of them now are very naughty.. We already expect some fights with them..


• South Korea
17 Jan 09
oh yes, we cant avoid such jealousy to kids..but im hoping that when they grow up everythings should be ok..thanks for sharing..have a nice day

•
16 Jan 09
I have only one son and he is 13 months old. Even i only got one i also get stressed most of the time. Because he got his own mind now and he wanted to explore and what he wants, he must get or else big trouble and lots of screaming and crying inside the house. When he is doing that and on his tantrum, i put him on his room and let him learned but as a mother you can't resists him so so sometimes i just give what he wants, looks like i started spoiling him.

• South Korea
16 Jan 09
i think now a days kids are not easy to handle with coz they tend to be more aware than the adults one..cheers


• United States
16 Jan 09
Why didn't you just make some more noodles for the little girl? I will tell you from experience having a 15 yr old boy and an 8 yr old girl, if you always scold the older one, he will start to resent his sister. I fouund this out from doing the same thing to my son. Finally I realized that there are other ways to get around these little fights without blaming anyone.

• South Korea
16 Jan 09
some kind of food is not allowed for my little girl..and i think this little girl girl is very hot to handle as she knows that every body adore her..she think she is big already..thanks for sharing..have a nice day


• United States
16 Jan 09
[i]Hi marketing, hahahah..what a brave little kid smacking her brother! LOL! I have no kids but I have seen my friends in that situation....I know it's very challenging but I guess this is normal for their stage, I remember when I was a kid, we also fight a lot with my Sister! LOL! [/i]




• South Korea
16 Jan 09
oh yes my little girl..was very good

thanks..have a nice day

• Japan
16 Jan 09
I have four kids, 17, 14, 11 and 6. And they fight, not so much the older ones although the 14 year old loves to tease a lot, too much some days. One thing I try not to take side with my kids. Especially when they were younger, I would always get the he started, no he started it talk. Not helpful at all. So I would ask the kids to sit in different chairs and think about what they had done. After a few minutes they were free to come and tell me what they thought had happened. If I got the same kind of story then all the kids involved would get punished. I'm the pratical kind so they would have to clean up or some other chore that they hate. As they got older I tried to teach them that actions have consequences. For example if the kids won't move in the morning they miss the bus, we won't drive them to school, so they are late. A couple of times this happened they never mess around in the morning!! Jacks

• South Korea
16 Jan 09
wow..that was great..maybe i should do that too..thanks have a nice day


• Philippines
16 Jan 09
i will just my son to share the food with the sister. i will do some explaining about the need to share blessings with the love ones. encouraging the children to be sharing blessings with the members of the family will pay off later in life. once our kids would have grown up, this shall become an ingrained value in them. sharing blessings with the people they love will come in easy to be doing. it will just become their nature to be sharing and loving persons. good luck in your child rearing and disciplining, marketing. it really needs a good amount of talking to the children while they are growing up.

• South Korea
16 Jan 09
yes youre right my friend, i really appreciate it..have a nice day