Post the cutest photo you have of your kitty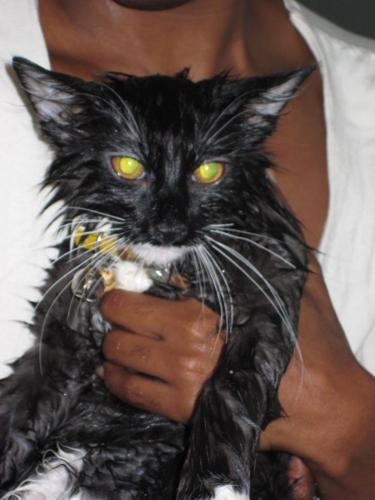 United States
January 17, 2009 4:07pm CST
I have a tuxedo cat (black up his back and legs with white forepaws (cuffs) and white chest(shirt). He is a wonderful kitten, who doesn't really mind being bathed, he's getting huge however which makes it more difficult and more involved. When I got him 6 months ago I used to be able to bathe him in the sink. now I have to put him in the tub. He is just over 7 months old and he weighs around 19 lbs. Here is my favorite pic or my very wet freshly flea washed kitty.
3 responses


• United States
19 Jan 09
That pic is truly adorable. They must really like each other. I have known one person that had 38 kitty's in his place, he rescued them and they more often than not would be found in knots and tangles of kitty recline.

• Australia
17 Jan 09
I have a tuxedo cat as well, but I am not sure I really agree with bathing cats, they do that themselves and i think forcing human habits on to animals when not really necessary is a bit cruel really when it is an instinct type of thing with cats with water, they gernarally hate it...but that is a very nice photo...

• United States
19 Jan 09
It is impossible to flea bathe or flea dip a cat without getting him wet and watching him scratch constantly is no fun. So once in a while Jinks has to take a bath.

• Australia
19 Jan 09
I prefer to use the drops that you put on the cats back once every couple of months..

• United States
20 Jan 09
Like most cats she doesn't look like a little angel but I bet she is one. Thanks for responding.