What movie is this from?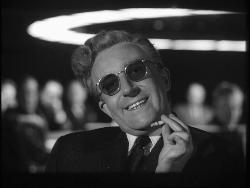 United States
November 9, 2006 4:53am CST
If you can correctly identify this character and/or the movie he is from, you will win best response!
3 responses

•
9 Nov 06
The movie is Dr Strangelove with Peter Sellers, not sure which character this is tho, it is either Group Captain Lionel Mandrake, President Merkin Muffley or German born scientist Dr. Strangelove as he played all 3.

• United States
9 Nov 06
Congrats for recognizing one of the greatest movies ever filmed! And for the record, the character pictured is Dr. Strangelove himself. Extra credit for knowing that Peter Sellers played all three roles :-D


• United States
9 Nov 06
Though you did get a post in anyway, didn't you ;-)

• Israel
9 Nov 06
wow... i really don't know.. what is it?...