How do you make mylot friends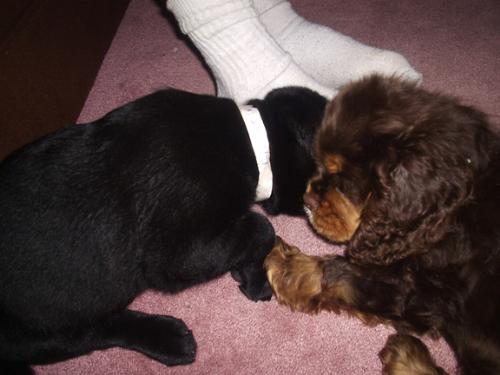 Canada
January 19, 2009 12:59pm CST
Hi everyone I was wondering how you make friends on mylot. I am new to this site, and have has some people add me as thier friends and I have accepted the request because this is a social site also gives me more topics to discuss in the friends started catagory. I was wondering how everyone else makes friends though, do you add people as frineds of wait for invites? Do you add people who you feel you are similar too by the types of discussions they comment on or start. And why do you add people. I was just wondering because I would also like to get a larger friends lists and just wanted to know how people choose these people and why they choose them. Thanks all for you responses!
6 responses

• China
20 Jan 09
I think the feeling is most important to be friends just like the real life.In real life, i will make friends with somebody who can bring good feeling to me .Sometimes i will be boring or afraid of somebody who want to make friends with me.i trust my first feeling to somebody.

• Canada
20 Jan 09
Thank you all for your responses so far there are lot of different people on mylot who make freinds with mylot users in different ways which is great it takes all types of people to make the world do round. I have accepted everyone who has added me as a friend and I believe sent one request out. Although i have noticed that all the people who have added me have been involved in discussions I have also been involved in. I am thankful for all the friend invites from people who have read my responses or discussion topics and enjoy discussing with me. I also like having people on my list i have things in common with because they usally start discussions that I am also interested in talking about and that benifits all involved because it gives us insight into other peoples views and opinions, as well as makes us all money doing somehting we are enjoying doing and would do for free! Thanks all for your responses and keep them comming!

• China
20 Jan 09
I got many friends from a chinese forum.we communicated by OICQ which we built a group named pretty mama's group.It contains the mama's OICQ whose child were born on 2008.we can communicated with each other about the upbringing.we can ask questions ,such as what can the baby eat when they six-month-old.we can buy something together,such as baby walker.we can also post baby's pictures.All the mama were awared by forum which is like mylot.So If we want to make more mylot friends,we can also built a group.

• Philippines
20 Jan 09
I was here for a long time. But i didnt expect that i could possibly find or have all this friends in my list. All of them just send me an invitation to to be their friends and i just accept their request. That how it is happened. And it depends also to all your discussions. I guess, some of them want me to be a friend because of the discussion i started which they like it.

• Philippines
20 Jan 09
Well, if you really want to have alot of friends, send a friend request to everyone you see around here.

It is very easy to make friends here. Most of the time, I am the one who is getting friend requests than asking our fellow lotters to be my friends. The main reason why I send friend requests is to be able to send personal messages to them. Also, I can give comments to the images attached to my friend's discussion and give comments to their profile as well. I really do not have a certain choice on who I will be friends with. I approve all the friend requests I receive.


• Philippines
20 Jan 09
i really do not have the chance to make friends here. some people who i responded to their message add me as their friend and i accept but i cannot add others as friends. this is because i only get small time to come here and post responses so i use all my time in responding. i am thankful for those people who have added me as their friend.

• Canada
20 Jan 09
I pick and add people who enjoy the same subjects as me and who I think offer thoughtful, respectful opinions whether we agree or not. I am not super choosy about who I add, I don't have a rigorous screening process or anything like that, but I also don't add people I have nothing in common with. If I get the sense that someone is just going through and adding as many people as possible I don't accept. If I answer someone's discussion (or they answer mine) and their ideas or writing style intrigue we then I'm send a request. It sucks a bit when people deny you but I don't take it personally.

• United States
19 Jan 09
Most people that are on my friends list have sent me a friends request. I have a number of them. The main reason they sent me the request, I think, is because I posted to one of their discussions. After a while, it seems like we end up in all of the same discussions anyway. Especially if it is someone who has a lot of the same interests as you do. I am glad for all of the friend requests that I have received. And all of the simple little pleasures that we get from commenting back and forth in each other's discussions.