Arizona Man Kills Record Western Diamondback. What Would You Have Done?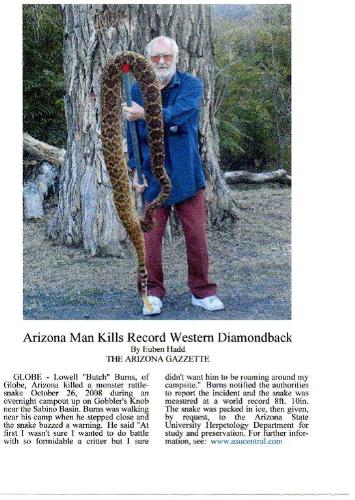 United States
January 22, 2009 10:46am CST
Globe--Lowell "Butch" Burns of Globe, Arizona killed a monster rattlesnake Oct 26, 2008 during a overnight campout up on Gobblers Knob near the Sabino Basin. Burns was walking near his camp when he stepped close and the snake buzzed a warning. He said, "At first I wasn't sure if I wanted to do battle with so formidable a critter but I sure didn't want him to be roaming around my campsite. Burns notified the authorities to report the incident and the snake was measured at a world record of 8 Ft. 10 in. The snake was packed in ice, then given, by request, to the Arizona State University Herpetology department for study and preservation. If you want to find out more about this go to www.asucentral.com My reply to this is there is no good snake but a dead snake. But then I hate snakes. What are your thoughts on this gigantic snake?
No responses