2nd Payment from CashCrate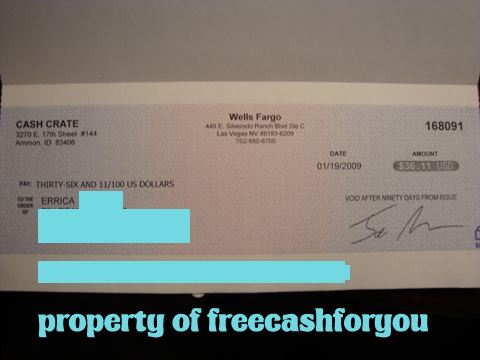 United States
January 24, 2009 12:44am CST
Today i received my second check from Cashcrate for $36.11 for my December earnings. Cashcrate is one of best GPT sites on the web that really does pay. If you are interested in joining go to my profile for more information
4 responses

• Singapore
24 Jan 09
i find tht these sites are more oriented to the US so tuf for people from other places to earn more money. good tht u earned so much. congrats. so all the best. who else has paid u . are u earning good online??

• United States
24 Jan 09
i think cash crate is for the us only.i've gotten paid my getpaidto and greatrewards those sites you can get paid daily

• United States
24 Jan 09
Buzzmehere, I chat with people in a lot of countries outside the US and they tell me that they make a lot of money in these US and Canada programs by sponsoring a lot of signups in the US and Canada. A good place to get this info is the Marketing Pond Forum I can't give you the address here but if you will pm me I will be happy to steer yopu to some traing if you want.

• India
24 Jan 09
wahhhh great thing.$36.11 great earnings dude.what are the things we want to do there to earn.U r telling that it is a genuine one.Yeah i trust it i ha seen ur earnings.It is great.And how many days u take to earn sush a huge amount.Mylot is slow for earning without referals. happy mylotting.

• United States
24 Jan 09
You can get paid by completing free & trial offers that are worth any between $0.15 - $45. Once you have received credit for an offers you also receive points that can go towards prizes. They payout for this site is $20.00 if you reach your payout by the end of the month you check will be mailed out on the 15th of the next month. If you are still interested check out my blog for more info. Happy lotting

• United States
24 Jan 09
Cash Crate has been a good one for some time now. Another that I like is Big Crumbs. Then there is Treasure Trooper. These and many others can be found at the Marketing Pond. If anyone is interested pm me for details.