Kong Hei Fat Choi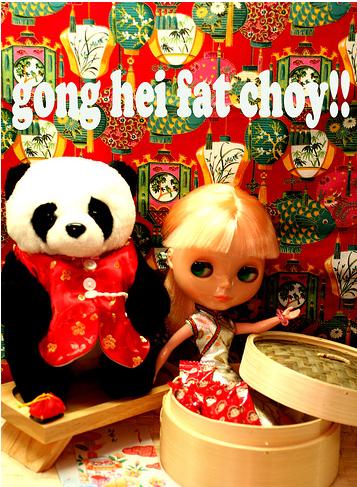 Philippines
January 25, 2009 9:57pm CST
Do you celebrate Chinese New Year?? Do you think that this Year of Ox would be a great year for you?? Do you have any traditions to make before or during this celebration??Just want to greet "Kong Hei Fat Choi" to our Chinese friends out there...

I hope that this would be a great year for all of us..
3 responses

• Jamaica
27 Jan 09
My sister in the U.K. always celebrates Chinese New Year. Happy New Year to you Kissie and I hope that it will be a wonderful year for you and may all your dreams come true.


My sister always serves a great Chinese meal (she's a good cook) with all the trimmings. She invites at least a dozen people to help celebrate this occasion. do you cook anything special? My sister always cooks duck as her main dish. What do you like to eat at this time?

• Philippines
28 Jan 09
I don't know how to cook but my mom always cook Chinese food especially in this kind of Occasion.. My grandfather is a pure Chinese and he taught my mother when he's still alive on how to cook Chinese food.. My mother specialty is more on in vegetables with some meat for toppings.. But now that I'm living far from home and this is my first time living all my own, I don't celebrate the Chinese New Year just like when I'm with my family.. I just offer some fruits and candies and chocolates.. Well, I think that would be enough already what is more important I offer something and able to remember them.. Anyway, thanks for sharing.. Happy posting!


•
27 Jan 09
Hi kissie being English I don't celebrate the New Year full stop, as to me it is only a continuation of last year and hopefully it will be better, hugs littleowl

• United States
26 Jan 09
I'm half chinese and half Cambodian, so I celebrate Chinese New Year. First thing that we wants is Red envelop, in it has money. It means a lot when you get one of those or you give them to your family. I gave one to my employee but haven't get anything yet from my friends but we celebrate with a lot of food and family reunion.

• Philippines
26 Jan 09
Me too.. I'm half Chinese.. Well, we usually celebrate Chinese New Year just like the New Year of January 1. We do some traditions since my grandfather had though us to do those things.. But now that I've moved away from home, I'm not anymore celebrating Chinese New Year but I'm sure that at home they were celebrating Chinese New Year.. This is my first year of not celebrating Chinese New Year and haven't received "Ampao" or the "red envelop".. Well, I miss home already..