Ice Crystal, Lunar Landscape?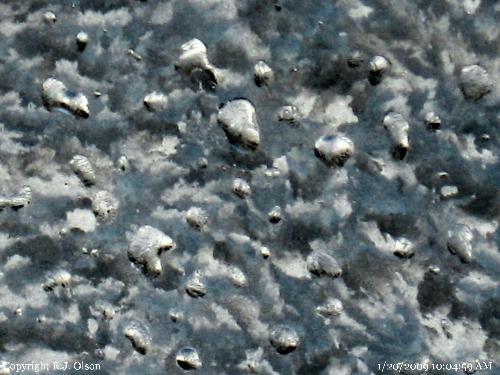 United States
January 26, 2009 1:36pm CST
This is a photo of some ice crystals on my window I took last weekend. I edited it by darkening it and bringing out highlights and shadows. I think it looks like a shot of the Lunar Landscape. What do you see here? I can add a photo of this same area that is normal and not edited and taken from a distance not a close up in a comment later as well.. HAPPY POSTINGS FROM GRANDPA BOB !!~
10 responses

• United States
26 Jan 09
Hi grandpa bob.. What a photo you took there...and the editing made it look awesome...It certainly does look like Lunar Landscape... It would be nice to see the original....thank you..

• United States
26 Jan 09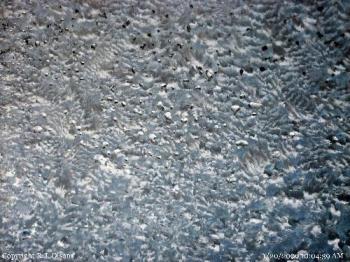 Thank you very much. Here is the whole window of ice crystals. This is prior to a close up shot of the middle of this one. HAPPY POSTINGS FROM GRANDPA BOB !!~

• United States
26 Jan 09
Cool..They look like Christmas tree worms..( scuba diving term ) that are multi colored underwater...and they lived in little holes, which I do see in this photo..and they pop up every once in awhile.... Awesome photo.....thank you

• United States
14 Feb 09
Thank you for best response grandpa bob...our snow had melted due to all the rain but we are having snow today..some accumulation over night..and the flakes are coming down and they are huge....lol

• United States
26 Jan 09


Hi, It does look like a lunar pic. Wow!You take some very interesting pics...and this one is very unique. Have a great day, grandpa, and enjoy the pictures, quite fascinating!

• United States
26 Jan 09
Thanks bunches. I love taking and sharing photos of anything and everything actually. HAPPY POSTINGS FROM GRANDPA BOB !!~


• Canada
28 Jan 09
It sort of looks like the roof of our garage. Maybe you should send a picture to the president since he believes that we are in global warming and he will probably think that you were on the moon and snapped the picture.

Any how, itIt sure was cold. I opened my front door on Monday and had to close it as the wind chill was so bad, Luckily it is going to get warmer so I guess no more icy pictures.

• United States
28 Jan 09
I will look at it when I post this response. I do love looking at your photos. The last time I got my camera out it was to take photos of the baby shower and it has people in it and I will not post them without the person's permission

• United States
27 Jan 09
Well I will have to wait until I post this response to the discussion to see your pic before I can see it. Glad you are still having fun with your camera taking pictures. I haven't had mine out too much lately. But I did see a couple of cardinals in the snow this morning, and charging my batteries right now, so that hopefully I can capture something in the snow before it's gone.

• United States
27 Jan 09
I like they way you play around with you camera. Fascinating. You know?, I don't see lunar surface landscape..... I see something growing, a science project, a magnified slide, etc.

• United States
27 Jan 09
Hey Grandpa Bob! It sure does look like some type of lunar landing! Looks like it could have been one of those moon landing shots! It definitely doesn't look like it is an ice crystal that's for sure! Really don't know how you were able to see a lunar shot on your window in ice crystals this time! lol

•
27 Jan 09
Hi GRANDPA BOB, Yes it does look like Lunar Landscape, those ice crystals, it very pretty, but if you look at it for long its look like pebbles on the beach. Tamara

• Australia
26 Jan 09
It's definitely time you starting thinking of making a book of these beautiful pictures, GB. They are extraordinary, and certainly give people a lot of pleasure looking at them - particularly people like me, who are not lucky enough to live in snowy areas.