Which waterfalls you liked very much?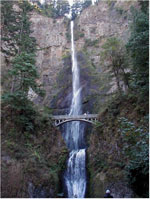 India
January 29, 2009 11:26pm CST
I have seen some waterfalls in India and some waterfalls in U.S. Out of all the waterfalls I have seen, I can't forget the pleasant experience I had in Multnomah Water Falls in U.S. This is the second highest waterfalls in U.S. We went on to the top of the waterfalls which is about 600 feet high. To reach there we had to,walk about 1.2 miles on the paved trail.Though it was 1.2 miles we had to take rest many times because of the upward journey. While walking on the trails,we had very very beautiful views. The Columbia River Gorge,the forest with beautiful scenarios(It was in falls season ) on the Larch Mountain,the pleasant cool climate etc made us so refreshed,that we just can't forget that waterfalls. In fact that is my first experience hiking to the top of the hill to see the waterfalls starting point.On top there was a small creek with cold water flowing very calmly. Which waterfalls you liked very much?Please share your experience.
3 responses

• Switzerland
30 Jan 09
Though I haven't visited so many waterfalls, my first three choices are Athirampally (Kerala, India), Suruli (TN, India) and Courtalam (TN, India)... May be there are lots more better than these... But I'm associated with these three right from my birth and so, they have their own places in my heart. Now, though I started going outside the country and visit many beautiful places, I couldn't compare that happiness I had at my home places to anywhere or anythings here....

• United Kingdom
31 Jan 09
I adore waterfalls and like to swim in a cool natural pool of water and then enjoy splashing under the waterfall. In a warm climate that activity feels refreshing and so very enjoyable. I saw some lovely waterfalls in Samoa and swam in one of them. My favorite waterfall is called Crystal Cascades in Queensland in Australia. It was so amazing to swim there in the cool pools and bathe under the thundery like falls. I felt so refreshed and happy as the water splashed all over me. It was exciting and relaxing at the same time. I am very keen on traveling and one day I would love to see the Victoria Falls in Zambia. I am sure they must be really beautiful.


• United States
30 Jan 09
Multnomah Falls is my most favorite place! I have been there three times, and have hiked to the top. It is beautiful and lush and majestic. I acually have a picture of Multnomah Falls in my bedroom and it is the background of my desktop. I first visited when I was fifteen years old, and then again when I was nineteen. I am very anxious to go back again.

• India
30 Jan 09
Hi Stephyj Good.Your favorite water falls is same as mine. I thing anyone who walks up to the top of the mountain,will surly love it. I will visit again whenever I get an opportunity. Even the road we drove to that place had a very beautiful scenario. Just I can't forget. Happy mylotting