.....afraid to grow old?......

5 responses

• Philippines
30 Jan 09
I am afraid to grow old not because I am afraid of those nasty wrinkles but because of worrying about so many things when I am old..I worry who will be there when I'm incapable of doing things on my own...who will be there to care for me..I don't wanna see myself someday that I'm so much incapable---i wish to die young while i can still do lots of things...

• Malaysia
30 Jan 09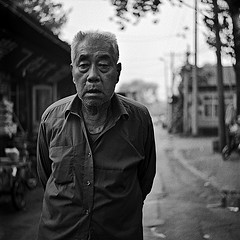 As OLD is GOLD and never less to its charm, so I feel honored as well as very proud, being an oldie. I am 48 years old now(by year 1961 - 2009), matter of fact am really happy as this year 2009 is The Year of Ox; according to Zodiac Calendar year and it regulates for every twelve (12) years. I feel this year is my new life year before entering my 50th. of age. About having wrinkles on my face, I have to read it as a life's experience ranking and will never shy to have that "fortune" lines. Emmmmm!...should I compare it as police's ranking line, from Corporal - Lance Corporal - Sergeant - Captain/Lieutenant??? hahahahahahahaha!!! The only thing is, I must ensure that the older I am the more life's VALUE I am gaining. How value it is or would it be?. Enough justly like rainbow, never bright but very colorful. That is me and mine.

• Philippines
30 Jan 09
Hi singlepixel dear! No, not really. Everyone has to go through that, it is just a matter of time. However, I am not looking forward to it. haha..

My spirit always reigns in my life and my spirit is wrinkle-free!


Take care and have a great day my love! lovelots..faith

• India
30 Jan 09
There is a general preception that old age is bad and so most people try to be young. But the reality is that we all have to pass through that phase with an exception that a few of us will be going away early. But which ever way we try to postepone it , it will come in a more deadly manner. The only thing that we can do now is to keep yourself fit and avoid as many mistakes as possible so that the past wont grieve us in our old age. And also do as much good that you can do now with your good health which you maynot not be able to do in your old age. Your quote is a very apt one.

• China
30 Jan 09
In fact,I'm afraid of growing old,because that means my parents will leave us and our body will become weak gradually.That's terrible.But there is no time for me to worry about this problem,I'd like to enjoy the good time and prepare for the old time.hehe....happy mylotting!~