WOW the coolest thing!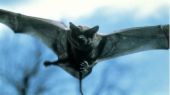 United States
January 30, 2009 11:43pm CST
I love nature I think it is wonderful I live in the city and miss the country a great deal but to get to the story I live in an apartment building and my Bf dose the maintence in the building for our landlord well He was working in one of the apartments up the hallway he left an 5 gallon bucket and a few months ago we went back in to apartment and found a bat in the bottom of the an empty 5 gallon bucket he was still alive so we left him he has not moved other than breathing I found out that bat hibrnate and I thought that it was kinda cool to see this in detail so we are leaving him there to watch him I think it rocks to see something like that what do you all think!
2 responses

• United States
2 Feb 09
I agree. Years ago when I was working at a medical clinic somehow a tarantula got into the building. One of the doctors picked it up, put it into a bag and put in in the freezer where it went into suspended animation. Later when the doctor took it out of the freezer back to life it came.

•
31 Jan 09
Hi sxrxnrr, That is a beautiful shot of that lovely bat, yes best to leave it there and let fly out on its own accord, once my cat brought in a bat and it was still alive, I had to make the cat drop it and he did, I put the bat in a shoe box with some tissue and lettuce and left on the the shelf where the cat couln't reach it, the nice morning it has gone, it floew out the open window. Tamara