women taking power!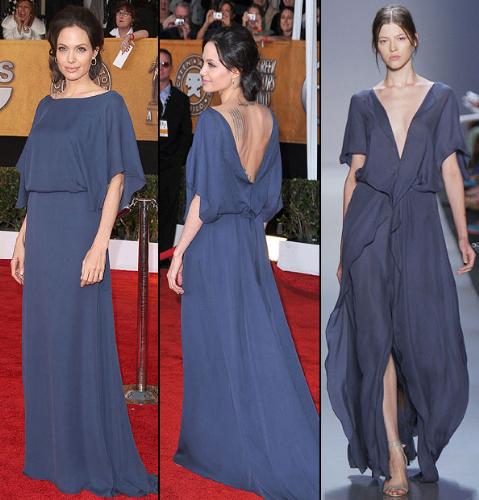 United States
January 31, 2009 11:47am CST
this is what i call women taking power back! Thu Jan 29 2009, 6:49 AM PST 9505 comments Angelina Jolie turned heads at the Screen Actors Guild Awards last Sunday, and it wasn't just because she was her usual stunning self. It turns out Angie was wearing her Max Azria gown -- a cornflower blue creation -- backward!Did a spurned stylist tell her to wear it the wrong way round? Or was the "Changeling" star too busy caring for her newborn twins that she didn't realize her mistake? Neither, according to Jen Rade, who styles the starlet. Rade told Usmagazine.com that Jolie reversed the gown on purpose to make it "more blouson." For those of you who do not parle Francais, "blouson" is the French word for blouse. The end result was a bit too bland for my taste, and rather reminiscent of another Max Azria dress she wore to the Critic's Choice Awards just a few weeks earlier. Had she worn her gown the right way round, Angelina would have shown more skin but less of her distracting tattoos!For some reason, the sexy actress has favored billowy blouson gowns with cinched waists this awards season. I just hope she takes a break from the trend come Oscars next month. She may be a mother of six, but she doesn't need to look matronly.
1 response

• United States
31 Jan 09
Just when I was going to pass this discussion up, you go and say this:
She may be a mother of six, but she doesn't need to look matronly.
Usually, I don't give a hoot and a holler about whose name who wore on the red carpet on any given night, but when you said this I had to stop and say something. Isn't this the same woman that said she would only adopt kids because she didn't want to ruin her figure? Now she's wearing clothes in a manner that makes the condition look more that way.

mess.

• United States
4 Feb 09
Ha! the rap group Kris Kross did it first in the 90's by wearing their jeans, shorts, overalls, and shirts backwards all the time!