Do you hate it when your one side of your earphones dies?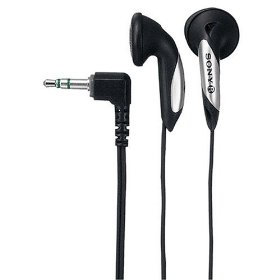 United States
January 31, 2009 7:24pm CST
I was listening on my Ipod the other day and then the left earbud died. I hate when this happens. Im always looking for one the earphones that last forever but they never do. The cheap one dollar ones only last like a week. I bought a sony one which is a pretty good named brand, for 10 dollars it only lasted 8 months. Feels like a ripoff to me. The earphones that came with the Ipod lasted for over a year which is pretty good. Does this happen to do you? Hate it? Any earphones I should get that are pretty good.
7 responses

• United States
24 Apr 11
I accidentally discovered - on a motorcycle road trip - a cheap long lasting pair. They are in my ears now and have been tugged, pulled, yanked, twisted, and entangled and function like new. They are a philips 10 dollar pair of ear buds. Not sure of the particular item code but I have seen them from 9.99 to 15.00 and seem to take any of my abuse. The cushy plastic/rubber part of both sides fell off months ago which was fixed with superglue, but the important part - the audio reaching both ears without having to wiggle or coax wire connections is still strong. I sleep with them every night as well as do janitorial work with them on.. No I don't work for philips I just thought these should be praised and rewarded with a testimonial


• United States
31 May 09
Personally it would be nice if they could make Earphones that seem to last better. I know with many things it has been harder to keep them up, and for ones that are decent they are expensive as well. Maybe one of these days someone will really listen to our complaints and requests and make ones that will last longer while being cheaper as well.


• Philippines
9 Feb 09
Yes, I do. I can no longer count the earphones I bought and thrown because its left or right piece is no longer. Well even thousand worth earphone/headset won't last long so expected that you really have to buy a new one but at least, expensive ones last longer.

• Philippines
1 Feb 09
This just happened to me last week! It is really frustrating because my iPod's earphone came from Apple and I just bought it in June of last year. If I'll adjust the lower portion of the chord, it'll be fixed for sometime. I'd really have to buy a new one! I heard Panasonic's is one of the best.

• India
1 Feb 09
oh yes....this happen very often....i hate it. its so irritating when we cant hear properly....and you have to go searching for new ones......i have been using my ipod for about an year now....and think those earphones will not last any longer....:-(.......they are getting old.