Have you heard any lame excuses lately?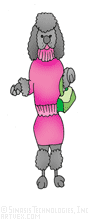 Australia
January 31, 2009 10:58pm CST
I heard this excuse the other day, "Sorry I didn't call, but my cell phone was in my pants pocket and the dog took my pants away while I was asleep on the couch so I did not hear the phone." I hope she wasn't wearing the pants when the dog removed them! Almost as lame as "the dog ate my homework"! What lame excuses have you been offered or have heard of lately? Please share!
1 response

• United States
1 Feb 09
LOL now if they said they fell asleep and didn't hear the phone LOL that would have been believable but creating this story to go with it is just ridiculous. The funny thing is I really did have a dog eat my home work, the dog was a puppy and chewed up a binder and shredded the papers in it. As for the lame excuses well have heard a few over the years. one of my all time favorite was when I was working and had to find out why our phone lines between our southern locations and NJ were not working, and I was told the phone lines were down between North Carolina and New Jersey and the reason for the problem lol a mud slide in Georgia. I realize geography wasn't my best class but I am fairly certain that Georgia is not between NC and NJ

• Australia
1 Feb 09
Ha!Ha! That's funny! It is a good idea to do your research before making up excuses!Did you tell your teacher the dog ate your homework? Great response, thanks!

• United States
1 Feb 09
LOL no I was in High School I knew the jokes about the dog ate my homework lol fortunately it was a weekend so I was able to do it over again but I didn't have any of my notes for that session and had to borrow, lol then I also spent a long weekend the following weekend copying a semester worth of notes from someone else, the darn thing was it wasn't my dog LOL

• United States
6 Apr 09
Thanks for the best response, It would have been interesting to see others follow up and find out what reasons people come up with for things. Though when I worked in a book store one of my customers was a cop, there is an area I know people speed through, and periodiclly cops go to that area to catch them. The one time according to the cop who was a customer he let a guy off for speeding because he had a good laugh and well the reason given for speeding had the virture of being original. Seems when the cop pulled him over the guy said, I know I was speeding, I didn't want to make you wait to long. ...