have you visited my country?

Philippines
2 responses

• Malaysia
1 Feb 09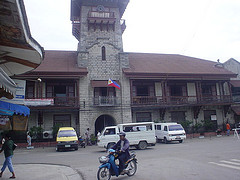 Every first week in each month I have to be in the great Spanish heritage city, Zamboanga City. I love the historical buildings in Zamboanga City including its City Hall Building, National Museum with an old well in there, Fort Pilar and the beaches including the real pink sand beach at Santa Cruz Island which is not far from the mainland. The best part is not just best visit place for me in Philippines, now it is the place really cherish me because my girlfriend is a Zamboangan. We virtually met on myLot in June 2007 as myLot members and till now we enjoy our love relationship. I love Zamboangan as well as the Zamboanga City.

• Malaysia
1 Feb 09
hahahahaha!...I think you must do it. Just look and observe at her writing skills and her writing discipline; as your first indicator; for your decision making. The writing pattern and formation really does reciprocates the owner's attitude. Happy searching, rayven00. Cheers!

• Philippines
4 Feb 09
Good day to all my kababayan here in mylot. Especially to all my friends here online. Well this is my response about this forum topic titled " have you visited our country" me i already visited our country betcause i am living here in the philippines. I really love our country because here i gained many experience especially does good experience which became a lesson. And i have many friends here in the Philippines because Filipino people were really great and very friendly that's why there is so many friendly Filipino and by the way here in the Philippines we have many beautiful place that gives popularity to our country and enjoy the beautiful place and view here in our country, well this is all my response to this topic titled " have you visited our country" thank you and happy mylotting. . . Mabuhay!!!