Do you want to be successful?Look at here!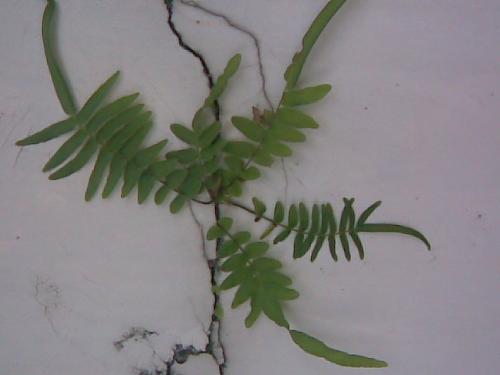 China
February 1, 2009 2:50am CST
Once,I find a small plant growing in the crack of a wall.I think it might be a kind of pteridophyte.So amazed,the small plant living in the wall itself,and you cannot find anyother plants living several square meters away.The only small plant lives lonly and successfully.Look at the photo below.Let's cheer for the excellent plant and the people who live like the strong plant.If somebody dont konw how to live strongly and successfully,you may learn from the green creature. Best wishes to all the people.
4 responses

• China
1 Feb 09
Even the small plants are struggling to win its life place ,so do people . I think the green creature indeed give us some inspirations.If one want to make success,no matter how poor or low he is ,keeping a willing heart and take pains to do what's right he should do ,ultimately,the door of success will open to all the people who take pains and fight for it .

• China
1 Feb 09
Hi,my friend.I think you and me are from the same country China because of your name,if I'm not wrong your name is Chinese pin yin,right?I dont know which province you now living at,but I believe that the terrible earthquake in Sichuan Province must give you a deep impression.The people in the disaster area must live strongly as the small plant,and they will be successful in the future.Am I right? Enjoy mylotting!

• Philippines
1 Feb 09
Nature succeeds all the time. There is no limit to what nature will do in order to survive. I would like to nurture this natural desire to succeed and survive in me. Cheers!!


• India
1 Feb 09
An encouraging message you have given. Thanks. To be successful, one has to cultivate a positive attitude towards life and people. At all times, we are faced with challenging situations. We have to face them with positive attitude and convert them in our favour.