Clint Ritchie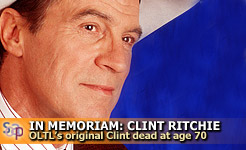 United States
February 2, 2009 5:36pm CST
The passing of a wonderful actor and man. The little obituary story mentioned some interesting things that I didn't know. Like he was also in the Batman TV series. He will be missed greatly. http://www.soapcentral.com/oltl/news/2009/0202-ritchie.php Former One Life to Live star Clint Richie has died. The 70-year-old actor died in his sleep shortly after undergoing heart surgery. Richie appeared on the ABC soap for more than 20 years. 70-year-old Clint Ritchie (ex-Clint Buchanan) has died, according to a report by radaronline.com. The avid horseman suffered a heart attack in late January and had undergone surgery to implant a pacemaker. Unfortunately a blood clot formed and the actor died peacefully in his sleep in the early hours of January 31. Linda Honore, Ritchie's longtime friend and bookkeeper said that Ritchie "had been sick for awhile. My thoughts and prayers go out to the family." Ritchie is best known for his work on One Life to Live, where he played Clint Buchanan for more than 20 years. He joined the cast of the ABC soap in 1979 and remained with the show through 1998. He made occasional guest appearances in Llanview over the next six years. "We are deeply saddened by the death of our dear friend Clint Ritchie. He will always have a special place in our hearts and One Life to Live's legacy," One Life to Live executive producer Franke Valentini said in a statement. " With his creation of the role of Clint Buchanan, he helped to bring to life one of the most memorable families in the show's history. The OLTL family will always hold dear the memories of the man we fondly referred to as 'Bucky.' Our thoughts and prayers go out to his family and friends."Clint made his television acting debut as a cavalry lieutenant on horseback in the pilot of the series, Wild Wild West. His other television credits include roles in three of the segments of The Centennial miniseries, an episode of Dallas and the children's program, Thunder. In one of his first, though lesser-known roles, Ritchie appeared in the Batman television series, playing one of the Joker's clobbered henchman, Boff. Ritchie, who never married or had children, lived on the 60-acre Happy Horse Ranch in Grass Valley, California, near Sacramento.
3 responses


• United States
2 Feb 09
I liked him! I wished they hadn't written him out all those years ago! He made a much better Clint than the current portrayer.

• United States
3 Feb 09
Quite true! He is the "real" Clint. Not that the new guy is bad, just different. They needed a Clint and Mr Ritchie was not available. They were lucky to get Mr VanDorn. They could have done a lot worse. He at least has plenty of experience in the medium.