Micheal Phelps... frigging idiot!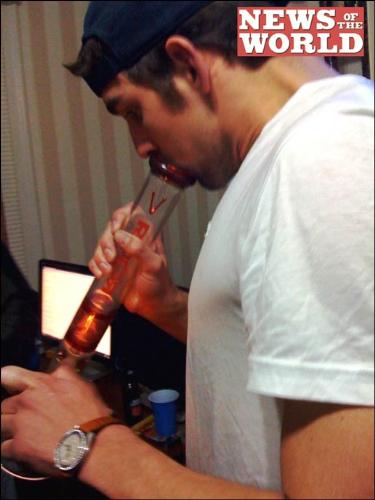 Singapore
February 3, 2009 12:44am CST
Micheal Phelps, the shining star swimmer in the recent Olympic games has been caught smoking pot! As such, he may be banned from the 2012 games! Read the report here -- http://www.ajc.com/services/content/sports/stories/2009/02/02/michael_phelps_pot.html Right now, there are sources that say that the story in the tabloid is not real. But they cannot rule out the possibility that it is real! If it is real, Phelps is a frigging idiot! He has it going for him in life. Success in his sports career all flushed down the drain all because of a bong! Never knew that he was such a party animal. Sigh... looks like it is gonna be taking a long time before he can recover from this career folly. Or will he ever recover from it? Michael, Phelps, smoking, bong, pot, marijuana, illegal, banned, drug, ahgong
6 responses

• Singapore
3 Feb 09
Yeah, i have seen that report on the papers.. I wondeer if that's true and if it's really so, his career might be over for sure.. After all, whatever he's smoking can be defined as a form of steriods and that might cause him all his medals as well, not to mention being banned from 2012 olympics.. Or maybe he only did it in a moment of folly as he's still relatively young at a age of just 22.. Hopefully this report is fake, if not, we will lose a swimmming phenomenal in the world...

• Singapore
3 Feb 09
Well, one moment of folly is all it takes to send his career down the drain. All his years of training are now worthless. According to the reports, his medals will not be affected as the incident was discovered after the Olympics games were over. And during the games, he was tested to be clean. But there is talk that he will be banned from the 2012 games, if the charges are found to be true! 22. So young. And already so far ahead in his career. And in that one moment of folly, he threw it all away. What a waste!

• United States
4 Feb 09
the reports are true because he admitted and apologized


• United States
8 Feb 09
I agree that what Michael Phelps did was stupid and he is paying for it now by being suspended for 3 months by the swimming association and losing her endorsement from Kellogg's worth over a million dollars. He will not be banned from the 2012 games since he did not do anything illegal. He is also going to swim in the World Events later this year. This is also strike 2 for Phelps. Earlier in his career, he was caught drinking while driving underage. If there is a strike 3 for Phelps, it would not be good. He is going to try to be on his best behavior from now on.

• Singapore
9 Feb 09
Oh? I didn't know of his earlier DUI. Hmm... looks like this 22 year old has not really learn from his mistakes. I too sure hope that this would be his last mistake. As long as he doesn't want to give up his partying ways, it will not be the last either. Cos when one is drunk, one has lesser inhibitions about doing something that is wrong, even though one is fully aware of the consequences.

• Trinidad And Tobago
6 Feb 09
I don't think its fair to Micheal Phelps that you are calling him an idiot. I could have happened to anyone. He is definitely not the first person to be caught smoking pot and he is not gonna be the last. Credit to Phelps for is outstanding performance at the Olympics and because of this, people think that he is perfect and he is some kind of superhuman. "EVEN THE BEST FALL DOWN SOMETIMES".

• Singapore
9 Feb 09
Think of it this way. He has been training all his life to get into the Olympics Games. He succeeded and he got a lot of gold during the games. From a nobody, he became famous after the games. He knows the rules from the beginning. And to even try it out in a party where people can see it, well, is stupid. And to be caught doing it is idiotic! Don't you think? He is still so young. So many years spent training to be the best and achieving that goal, only to let it slip his fingers cos of an experiment with a known illegal act. If that is not an idiotic act, I do not know what is. He is one lucky chap. Only one sponsor has pulled out from his contracts after his apology. I sure hope the rest of the people will accept his apology and not abandone him cos of his one stupid act. Otherwise, the sports world is gonna lose a talented swimmer!

• Singapore
9 Feb 09
Whether it is fair or not, it can only be fair for Michael to judge for himself. To commit a mistake when the person knows jolly well he shouldn't have committed and say to the effect "I've made a mistake almost anyone could have made" is definitely unfair if you like it, or blatantly childish and senseless.

• Guangzhou, China
4 Feb 09
I learned this news yesterday. I think it can be understanding anyway. Since he is so young and he becomes to be so famous at this age. He has lots of money. He is the sports shinning star. The fame and wealth make him lost. Young people like to take a risk or try something new when they are in such kind of situation. I love China




• United States
4 Feb 09
he admitted to it but it sounds like from what i heard today on the news that no one is gonna drop him or anything.. which i think is bs because other people dont get to just get off like that.. but eh lifes not fair.. but it seriously does look like its gonna be just forgotten soon

• Singapore
4 Feb 09
Hmm... that is not good eh? I sure hope he gets some sort of punishment for breaking the law. People are not dropping him now, probably cos they have signed him up with loads of money on contracts that they cannot afford to break. Once the contract expires, they may sing a different tune. But like you said, life is not fair.


• Singapore
3 Feb 09
Well, it may well be his doom this year. He better be praying real hard that it is not true. But that seems to be very slim. Cos the picture was supposed to be from someone who attended the same party he was in. And being a star sportsman, who doesn't recognize him? He was a fool to try something like that. What a waste! What a waste!