35 year old girlfriend and 20 year old boyfriend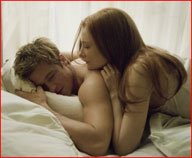 Philippines
February 3, 2009 2:07am CST
Can you believe a 20 year old guy if he will say he is in love with a 35 year old lady? Does really age matters?
6 responses


• United States
5 Feb 09
if your in love in shouldnt matter. I know someone who is 53 dating a 26 year old man. More power to ya girl!!

• Philippines
3 Feb 09
Yes, I believe that that's possibility. I don't think age has something to do with being in love because I have known some relationships which lasted having the situation of that age gap. It all depends on the maturity of both to commit to each other no matter how young or old they are.

• Singapore
13 Feb 09
Age doesn't matter, it's how comfortable you are with each other. The best thing to do is always be cautious in a relationship, no matter who your partner is. In the game of love, you really won't be able to find out what the other person's true intentions are until you've been with them, and got to know them inside out. Ultimately it's up to you to decide. Cheers.


• India
3 Feb 09
Nop. Age doesnt matter in Love, it is the unification of two souls with two bodies. Men falling in love with older ladies is quite common, whereas women falling for older guys is very rare.