How long you work with your computer in a day?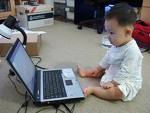 India
February 4, 2009 1:21am CST
We all work with our computers daily. But there is a fact that working long with computers leads to CRD (Computer Related Disorders) which requires heavy treatments. Are you computer savvy? Do you really love working with computers even after long years? How long you work daily? 6hrs.. ?? 8 hrs .. ??
3 responses

• Philippines
4 Feb 09
I am in front of the computer for 10 hours I think. I use computer in my work for 9 hours and when I got home, I log in for an hour or two everyday. The same thing with my wife, computer is required to use in work so we do not have a choice. Well, our work is more on computer and we will get sick if we do not touch a computer or our laptop for just a day.

• India
4 Feb 09
Thats right marquis. But the problem is, we may get some computer related diseases soon. Even I work for about 7 to 8 hours in a day. After going home also I will work for an hour. Dont know what is going to happen in future.. Why scientists are not coming out with some nice solutions fr such kind of problems??

• India
6 Feb 09
Yes. Computers now became a aprt and parcel in life. But nevertheless, too much is harmful in any case. Same applies for computers too. Rays coming from computers (monitor may be TFT or CRT, that doesnt matter) will sure affect the eyes when exposured for longer durations.

• Switzerland
11 Jun 13
It is really hard question for me. I think around 7 to 8 hours per day.

• Saint Vincent And The Grenadines
21 Feb 10
I'm an affiliate marketer so I'm on the computer a lot...maybe 8 hours or something like that. Possibly more.