Do you wear hats?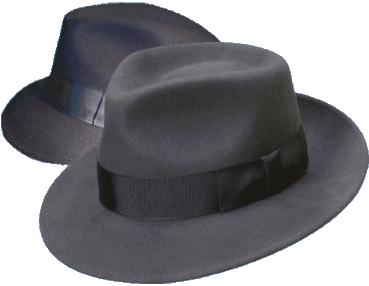 Netherlands
February 5, 2009 2:06pm CST
I am not talking about the good old baseball hat that seems to be worn by everyone today I am speaking about special hats. If you are a man do you wear a hat such as the Fedora that became so popular in the 1940's or women, do you wear a pill box hat, veiled hat or maybe a hat that would be appropriate to wear to Church on Sundays? I like to wear special hats when I go out because they make me feel special. So, do you wear a hat when you go out...even if it is only sometimes?
4 responses

• United States
5 Feb 09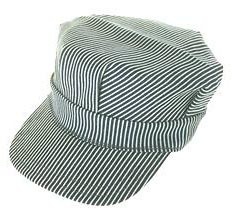 I have always like wearing hats, and have had many through the years that were special. My all time favorite was a hat like the one in the picture, an engineers hat that I wore all over the place and to work. I still wear a real cap now and then although most of my hats are baseball caps that my wife bought me. I do have one very special hat, a mink hat that my son brought to me from a trip he made to Russia


• Netherlands
6 Feb 09
Well excuse me "fancy smancy" with your mink fur hat from Russia! :D Just kidding, that really does sound like a beautiful and very special hat. I've never seen one in real life only in photos and on television and they look so beautiful! I also have a little soft spot for engineers hats, wear one myself once in a while. I think most people that wear hats do usually wear baseball hats but it is nice to hear that someone wears a real hat once in a while! Thanks for responding!

• United States
6 Feb 09
The hat actually was more of an accident than anything else. I had always seen them in movies and such. My son called to talk to me and he asked me was there anything he could bring me back from Russia and the first thing that popped into my head was those cute fur hats, so that's what I said. I was floored when he came back with the hat and the box said it was mink!

It's a very nice hat, but it doesn't get much use here in the desert of Southern California


• Netherlands
9 Feb 09
HAHAHA! I'm originally from Los Angeles so I do know what those "warm" summer days in the Southern California desert are like, so No, I wouldn't think it would get too much use! ;) Having said that though...I now live in The Netherlands so I could sure use it over here! I've always liked those hats also, I probably would have said the same thing, and like you, never in my wildest dreams thinking I would get one!


• United States
6 Feb 09
i like wearing hats, and i even have a fedora, but sometimes i feel too dressed up when i wear hat. california is kind of laid back and most people dress like crap here. occasionally, i will wear a hat when i go out somewhere.

• Netherlands
8 Feb 09
I know what you mean about the style of dress in California, Californians definitely have their own, unique style. I was born and raised in Los Angeles and it is definitely a wear what you want, (usually ugly), city! Thanks for responding! ;)

• United States
5 Feb 09
I hate anything on my head, so of course I do not like wearing hats! I bet when I was a baby that my parents had a hard time keeping a baby bonnet on my head. I probably pulled it off! I know that when I was a child sometimes we did wear Easter bonnets, but I'm sure that didn't last long either. You really don't see women wearing hats nowadays as much as you did back in the 40's and 50's. (I'm going by what I've seen in pictures) I do think that black women wear hats more than caucasian women do. I wonder why that is or is it just my imagination? Best wishes!

• Netherlands
6 Feb 09
I'm sure since you have such an aversion to hats that you probably did find a way to reach your small hand up and untie your baby bonnet and throw it off and I have no doubt that your Easter Bonnet was a complete waste of money too! I enjoy wearing hats sometimes. I like unusual hats and like to wear them sometimes when I go out to make me feel good and fun. I think you are right that hats were a big rage in the 40's & 50's and the fad started to die down when the "make love not war" 60's came. I don't know if Black Women tend to wear more hats or not but I have noticed that they certainly do wear a lot of hats. Maybe it has something to do with the fact that a lot of them attend church and it is a big thing for people to try to look their best when attending church and they do have some very nice hats when they go to church, they usually always match their dress, shoes and purses. I'm sure it makes them feel very good and nice to be well turned out and look their best. Thanks for your response!

• United States
10 Feb 09
I'm not much of a hat person. Not that I wouldn't love to wear hats, just that none of them ever fit me. I'm a petite person, so the only hats that actually fit me are in the children's department...even my motorcycle helmet is a child's one hahaha. I love those summer straw hats with the brim, and some of the other styles they have. I do have a small sized straw hat for working outside in the garden, but I wouldn't wear it in public with this pea sized head of mine hahaha. When I was in my 20's we always used to wear those pill box hats to church (back then you didn't go to church without a hat.) President Kennedy's wife Jackie was the gal that started the pill box hat being popular. It was the 'must have' accessory of that era!

• Netherlands
10 Feb 09
I agree that is a problem when you have a small head, personally I think they make hats way too big half of the time. And long ago, they use to have hats in sizes, but now days i think they think that everyone has the same size head so most of the time, like the summer straw hats etc., it is one size fits all and I think the one size is BIG! Oh I remember those Jackie Kennedy pill box hats very well, and you're right, everyone had to have at least one! I also remember the good old days when you not only had to wear a hat to church but your bag and shoes had to match and you actually had to put on a, (dare I say it?), DRESS!! Thanks for responding! ;)