I felt so guitly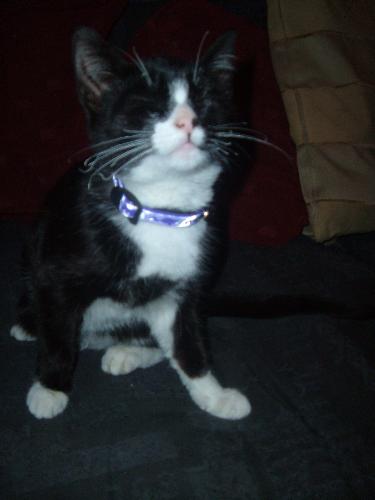 February 6, 2009 7:19am CST
I was cooking dinner for my kids Wednesday evening when my kitten, Nala, decided to jump up on the draining board which happens to be next to the cooker. Just as I turned the burner on and hit the ignition switch she stepped over onto the hob and signed all her whiskers. I saw it coming but just was not quick enough to grab her. She run off and refused to let me near her so I got one of the kids to check she was okay. (which she was). She refused to come near me for the next couple of hours and I was feeling really bad because of what happen. But I knew she had forgiven me in the end because later that night she did cuddle up to me. But she did not learn her lesson as she tried to do the exact same thing again the next day. But this time I was on the lookout for her and moved her before it could happen again. You would think she would have learnt her lessons the first time. Every time I look at her and see half her whiskers missing I feel so guilty. Has your cat ever done something and then gone back to do it again having not learnt their lesson the first time?
6 responses

• Philippines
11 Feb 09
This proves that cats do have short term memory. My cat Spot got caught as a kitten on one of those flytraps that had glue on them. Her fur got dirty and some got pulled out. But the next day, she got trapped again, so I had to remove the flytrap which was my trap for a mouse. Kittens never do learn. LOL.

•
13 Feb 09
LOL Glad that Spot was okay. It does seem they don't learn their lesson.

• United States
6 Feb 09
Hey littleone~ Cats don't remember when they do something wrong even when they get hurt! They get over things pretty quickly and then forget! They really are like little children and you do have to watch them very carefully. They get into things all the time. One of my cats is always getting stuck in the closets. You would think that he would know better, but he just doesn't learn!

•
7 Feb 09
Hi Opal I will be watching her very carefully in future.

• Malaysia
6 Feb 09
dont feel so guilty you never meant to do that to your cat.. a cat of mine name black..she loves to play under blanket one day she was playing under big blanket and she cannot make her self out from the blanket.it takes her about 10 minutes to find the way out.after that she never play under blanket or clothes or stuff like that. it funny but she learn a lesson..

•
6 Feb 09
I would never hurt my cat intentionally. I bet that was funny to see.



•
6 Feb 09
Least she learnt. My cat seems to want to use up her nine lives rather quickly.

• Janesville, Wisconsin
13 Feb 09
Yes, I had a kitten named Machavaali... He was black and white and about 4 inches tall and outdoor farm cat like most of them. His favorite trick was playing chicken with the house doors as people were in and out hed run inside and back outside was always getting his tail or feet caught in the door... One day.. My Dad was cooking steaks on the grill in and out and accidently slammed his neck in the door. He was paraylised neck down.. for three months made a miraculous full recovery other than having a clubbed foot from again getting himself caught in the door.. I think cats have a very good memory but when it comes to trauma and being hurt.. They block it out really fast, as cats are for sensual and pleasure they are not gonna focus on negative of traumatic things for long I will listen to a 20 minute cat fight go outside with a hose to spray them with water to break them up I used to have 32 cats and kittens trust me you do not want to reach in and seperate them when its that many toms going after the females.. Although my cats usually just ran in circles and slapped eachother with their paws making alot of noise and not really fighting :) ... to physically just a bunch of verbal ruckus... Anyhow Mackavalli lived to be two years old. He made friends with my English shepard who was also 2 year old playful puppy they were playing and Molly accidently nipped him to hard. She kept nudging him trying to get him up, and she bawled and howled took me 20 minutes to get my dog to let go of his little body she was upset she hurt him and moped around for months till another kitten befriend her... Machavalli was special.. My dog never really liked or got along with cats or kittens before him. Her next friends was his lil brother Zeus... Zeus was the runt.. And well they bonded so well they cleaned eachothers ears and faces every morning grooming eachother for about 2 hrs.. Cats remember the incident but they forget the pain, when it comes to getting burned they do not know what is is they think someone pinched them.. but they know what water is.. So keeping a water bottle handle and any time he goes near that stove give him a squirt.. . will help him train to stay away from that area... unless they like water.. otherwise I suggest aorund cooking time to pick a room in the house to put the cat into just for a little while... until you are done cooking or ask another family members to hold em for awhile.. They also make cat leashes and harnesses.. but there is cat carriers too.. They may meow and hiss the entire time but its better than getting burned pawsies :) . By the way I looked at your discussions because your name. Little One was often what I call my Cats and kittens before I name them.. Many of them passed on and on special one called Little one I raised from 2 days old was very sickly passed on at 4 weeks old nothing the vet could do they wanted to put her down but I said no the little bugger was just learning to climb and the last it did before it passed on was climbed my leg and curled up under my chin... I swear that Little blue eyed all black kitten was exactly like a minature human infant that Little one was special. Your id reminds me of her. Take care :) . - DNatureofDTrain

•
13 Feb 09
It was good you gave Machavaali a lovely life. I glad that he recovered with not too much damage. I also have a dog and he looks out for all three of our cats. My kitten hasn't got use to him yet but is fine with him as long as it is on her terms. It is a good idea about the water but that will not work with my kitten as water does not bother her. I am extra careful when I am cooking now, my kitten always wants to be with me she follows me everywhere even to the toilet LOL. Your Little ones sounds very special. My id is also special to me it was a special nickname my first love use to call me as he was 6" and I am only 5" 2. Thank you for your ideas.