My son won Student of the Week!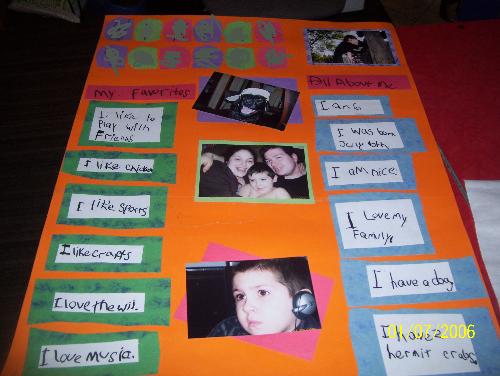 Canada
February 7, 2009 7:40pm CST
Hey so my son is 6 he will be 7 this summer, and he won student of the week last week!!! I was so proud of him, and he was so proud of himself which is even more important. As part of this he had to do a poster about himself and present in on Monday, then tuesday bring a book he likes to read to the class, and then wednesday he got to bring a toy or something to show that was special. Then on Friday he got to bring a parent in to talk about thier job or do a craft or something. He was so excited his dad went in and he does custom hardwood floors and stairs. All the kids loved looking at the wood, and pictures of the stairs and floors (i didnt think they would but they LOVED IT). I have attached a copy of the poster he did I think he did an awsome job for a 6 year old! I did blotch out his name though just cuz it's on the internet sorry, but you should check it out, Im so proud of him!!So what things have your kids accomplished that you have been proud of and do they get proud of themselves?
2 responses

• United States
8 Feb 09
Congrats to you and your son!! I am so glad your son was proud of himself. My 6 year old son won student of the month for the month of October, and since he'd had this honor in his previous years in school, it didn't seem to be a big deal to him this year and he didn't tell us... And then the teachers sent home his award, and note telling us about them having lunch with the princple, i was floored that he didn't tell me. He just said.. "Oh mom, it's ok, there will be other years i'll remember to tell you." Just had to laugh at him.

• Canada
8 Feb 09
Lol well it sound like you have a very confident and humble son, those are both wonerful characteristics for a person to pocess! Congradulation to you and him for his accomplishments! Kids are so funny sometimes, my son forgets to tell me thing all the time and then I get a not sent home in his agenda informing me what he forgot to tell me lol but kids will be kids what are we to do! lol

• United States
8 Feb 09
Congratulations to your son. Last year in 1st grade my youngest son drew a safety picture, his art teacher picked it out of his age group to go to the state level to be put on a safety calender. The calender is made up of artwork from kids all over the state. His was not choosen for the calender, but we were so proud of him. It is so great when they do something that makes them feel good about themselves.

• Canada
8 Feb 09
wow congradulations to you and him that is a huge accomplishment to even be chosen to sent to state level! That is so great, it is always so rewarding as a parent and you feel such a sense of pride, but the best part is how happy they are, and what thier accomplishments are teaching them!