Party night ... ....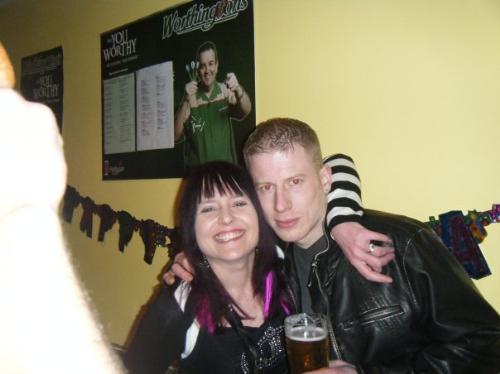 February 9, 2009 8:04am CST
So Saturday I just about had time to talk about the fact that it would take me all day to get ready for the party hubby and I had been invited too. Would you believe it I had all that time and was still late!! The party was a 30th birthday surprise for a friend of ours hubby, we were supposed to have been there by 7.15 but at 7.00 I was still not ready! But this was because a new girl I had recently made friends with who was supposed to be coming had a big row with her hubby and so she was texting me and I was texting her and oh it was just all a mess!!! Anyway another new friend phoned me asking where I was, and everything had gone pear shaped because NO ONE had turned up for this surprise party and so they had to keep the birthday boy away a bit longer. Anyway we finally got there at just after 8 pm and there was hardly anyone there and loads had been invited, loads had said they would go and they didnt. But it was a good night in the end and I made a few new friends while I was there so it was good! Posting a picture of me and hubby as I promised I would!! So what did everyone else get up to this weekend?
6 responses

• United States
9 Feb 09
That is such a shame that not enough showed up. For me that happens far too often. Whenever I throw a party for one of the kids hardly half of the folks we invite actually show up. Although whenever I've thrown an adult party, I have had a good turn out. It's just that now I don't really have enough adults to invite without inviting practical strangers. My weekend was totally uneventful. We didn't go anywhere aside from an occasional run to the store. Saturday hubby took the kids out to run some errands and I took a long hot shower because I wasn't feeling well that day, then we just relaxed all night. Sunday we watched a couple movies. That's usually how our weekends go, they're full of movies, especially when it's too cold to go do something.

•
9 Feb 09
It was a shame, the girl spent three weeks rushing round organising it all and she double checked with people and they said they would be there and then never showed. But those that did had a good night.

• United States
9 Feb 09
That's why I highly doubt I'll ever throw another party again. Although it's partly because I just don't know enough people anymore. The only party I may think about throwing is a house warming once we buy a nice home, but that's still a few years away, and if I do so, I'm going to invite a bunch of strangers, lol, all the new neighbors so I can get to know them a bit.

• Canada
9 Feb 09
That's unfortunate that so few people showed up and I am sorry to hear that your friend was having problems which made you late! Glad you had a good time though despite everything and I hope the biorthday enjoyed it too!!! Anyhow, My week-end was O.K. Same Ol' Same Old really! I worked on Saturday opposite shift of my hubby as usual and so did not see him at all! I worked Friday night too by the way! Then, I had Sunday off where I did valentines with my son which went fairly well considering but then when I should have time with my Hubby in the evening he ended up going to his Mom's because she needed him and so I was alone all last night and there you have it!!! Me Myself and I as usual 365 Days a year or it feels that way these days anyway! ~Heavens~

•
9 Feb 09
I have not known my friend long and I was looking forward to going out with her so it was a shame that she ended up missing out. Its a shame you didnt get to spend much time with your hubby this weekend sometimes its hard to get time for anything.

• Canada
9 Feb 09
It's always this way with us! I sleep in bed with him for two hours each night if I am lucky and then we pass like ships in the night going to work and that.... I'm married but feel often like I am raising my boy all alone! that's just life for me! ~Heavens~

• United States
10 Feb 09
Well, I had to work on Saturday and then my husband and I went to our Local Casino for a little bit to relax, and we ate a nice dinner, and played a little and I ended up leaving there with more than I walked in there with, and my husband left with almost as much, so it was a Good night as well.

•
10 Feb 09
sounds like you had a nice night at the casino and it is always good to go home with more than you went with!

• United States
9 Feb 09
my weekend my hubby an I work in the yard he is making me a koi pond fun huh anyway glad u are getting out there an having a good time

•
10 Feb 09
I love Koi, they are lovely I bet the pond will be lovely when it is done.

• United States
9 Feb 09
hello gemini_rose what a nice looking photograph of you-all. thanks so much for posting the picture of yourself like that, now we all know around here at Mylot what that you look like when we see one of your Mylot discussions. and i am so sorry to hear that a bunch of people didn't show up for the surprise party. but it is good to hear that you found some new friend's in the process of going to the party. and i guess that it is better late than never. lol right? and my hubby worked all day around here Saturday fixing our central heat and air conditioning unit. he got it fixed and again today still no heat is needed, it is seventy degrees outside. lol and yesterday we just hung out at home and i washed and cleaned up the house some was about all that i did over the weekend. i do not even think that i went anywhere all weekend long. lol take care and have a beautiful afternoon.

•
10 Feb 09
Yes I am starting to gain some friends slowly but surely!! Wow your weather sounds nice, a lot warmer than it is here thats for sure!

• Jamaica
9 Feb 09
Oh this sis such a pity about your friend. It is awful that people agree to come and then don't even let their hostess know that they cannot make it. I loved the photo of you and your husband. What a handsome couple you make. And I am glad that it went all right in the end. You certainly seem very happy in the photograph.

My weekend was so so. I am trying to get over bronchitis and so went to bed from Friday afternoon.

The Dr,. had given me sick leave for a week but I did not take the times as my boss was really giving me hell. So I spent Saturday in bed too - very reluctantly but I was feeling so drained of energy. Then he kept phoning me and leaving meassages of things to do. I really got upset especially as my son was getting upset on my behalf and I was scared that he would call my boss and tell him to leave his mother alone even for one day.

sunday - I stayed in bed to about 12 and then checked on the villa I manage (my part time job) as we have VI P's in residence. I then stopped off at work to check my emails and there were 11 emails from him. I just couldn't take anymore and so took some work home. I have been so distressed and prayed so hard as I would have had to face him this morning. To my delight, he left to go back to the city yesterday and although I have had to deal with his stupid emails I have not had to face him. For this I give thanks. Blessings

•
10 Feb 09
Yeah it is pretty bad, I felt sorry for her she had worked so hard to make it all a surprise. I am sorry to hear that you were ill and hope that you are better now.