Do dog owners get oblivious to thier pets actions?

February 10, 2009 3:10pm CST
I have had my leg sexually attacked twice by 2 seperate dogs. (i could take this as a compliment but decline to get big headed) once by my aunt Petuna's yorkshire terrier and once by my cousin Rick's Mastaff. On both occassions they carried on talking as if nothing was happening and this was an everyday occurrance. (god help the mailmen around here!) What was worse was the fact that i was so embarressed i carried on with the conversation as well! Have you ever had an amourous advance from a dog? I have had to get a restraining order for the mastaff. Constantly ringing my mobile and sending flowers. Last night he came to my door with a pair of glasses and a false moustache on...at least i think the moustache was false.
3 responses

• Canada
10 Feb 09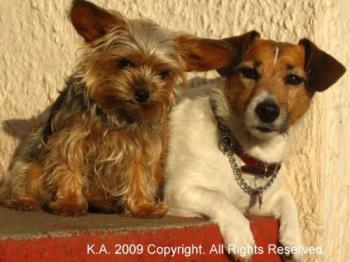 Lol, very cute. Thankfully, my Yorkshire Terrier does not have this urge. Now, my brothers Jack Russel Terrier is another story. He is in love with me, known by all but he is wise not to try and hump my leg. He will hump everything else in sight though. The rabbits, the cats, he has even tried it on my little 6 lb Yorkie and boy! did he get an ear full. He is like 15 lbs heavier than her. When Jack is seen exercising his dominance, he is told to stop. He knows that this act is not appreciated or well accepted. Luckily I have not been in a situation where a dog has been going at my leg and the owner remain oblivious. I have been surprised by such an occurrence but luckily the dog was made to stop. I can imagine having to finally resort to getting a restraining order for the Mastiff. He must really be smitten to be daunting a mustache now. What is one to do? Since my Yorkie has come into my life Jack, the Russel Terrier has cooled off some. He is still in love with me although he has managed to conceal is affection when the Yorkie is present.

• Canada
11 Feb 09
Indeed! Clever and devious is often an understatement. Often people are foolish enough to underestimate these masterminds. To think that he was actually able to con you into going out for a few dates or was that dare or else? Happy to read you were able to change your identity in addition to the restraining order. Don't be surprised if he finds another way.

• United States
10 Feb 09
I had that same thing happen to me at a friend's house. She kept talking as if nothing else was going on. Needless to say I didn't hear a word she said I was trying to shake the dog off. Finally I said "wait a minute" and pried the dog off my leg. She said he did that all the time and she was so used to it that she hadn't even noticed. I told her to hire a female doggy to help him out.