Ciao Beta! The new Ciao updates..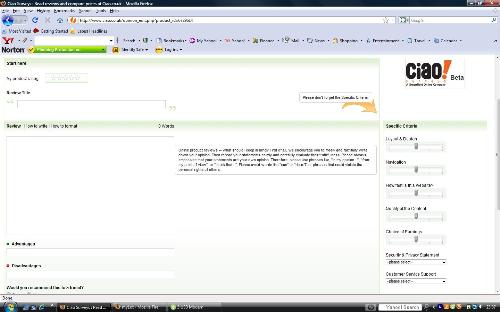 February 13, 2009 5:15pm CST
Seen Ciao.com was down for maintenance and updates to the site today... I read a message earlier notifying there were going to be some changes made to the
'write review'
section and I think this is what is being done now; have noticed it on the UK version this week and it's pretty good...

Fool-proof!

At the top is the
'product rating'
or stars which was at the bottom previously; then it consists of a few informational messages informing the reviewer what to do i'e when you put your cursor in the title section(which is now at the top), you shall get a message
'Try to summarise your review in one sentence and do not forget to mention the name of the product'
; then you have two links to pop up windows that explain 'how to 'write a review' and 'how to format' You have more messages for each section you click in and the check-list of criteria to your right of the review written; the site seems to be doing it's best to make the site more user-friendly (i.e if it was not previously for some..) You may be able to view the screen shot I took of the UK site..

Do you think the above would be of use to users? What do you think of the changes? Will it be of use to both the existent and new users since it is clearly explained... May bring a stop to those 'how do I use Ciao' discussions here maybe??
3 responses

• Singapore
14 Feb 09
I dun think it will make much difference.. It all depends on one's standard in their way of writing.. Even though there might be help available to teahc us how to write good reviews, but it still does not make a perfect review.. haha =D Anyway, Ciao keep changing their things, and though it seems better on the outside, but once u are a member, only then one will realise tha it's in a mess.. lol =D

•
14 Feb 09
Even though there might be help available to teach us how to write good reviews, but it still does not make a perfect review..
Think so too!

Though it may mean less tripsing back and forth through the help manual and guidelines for some...

Some users are never bothered by such anyway and just do as they please


• Philippines
14 Feb 09
Do ciao really pays? Some says it is scam.. I don't know who I should believed to..

•
14 Feb 09
Been paid by the site a number of times

and you can find the payment proofs on my blog on my profile page


• Canada
14 Feb 09
I'm not sure what the reviews on. What exactly are we supposed to review?

•
14 Feb 09
Have a look at the site's
categories
..

you can find a link on my profile page and blog which has payment proofs too