A picture of Theodore Roosevelt watching Lincoln's funeral procession as a child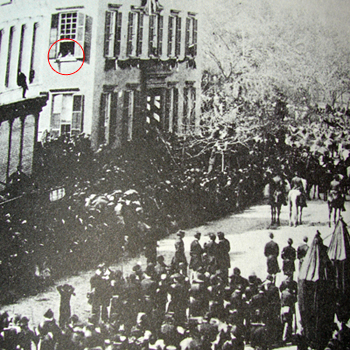 United States
February 16, 2009 10:40pm CST
Because it is president's day, I will show you this cool picture. In the picture is Abraham Lincoln's funeral procession passing through New York City. The house pictured is Roosevelt's grandfather's house. Little did the photographer know that one of the boys in the picture (circled), along side his brother, would in the future be the president of the United States of America. This was pure accident that the child was in this picture, how amazing is that. Another interesting Lincoln fact is that the brother of his assassin (John Wilkes Booth) saved Lincoln's brother from being killed by a tram car. One Lincoln was saved by a Booth, and another Lincoln was killed by a booth. What are the odds of that? It is like the Booth family had control of the Lincoln family destiny!
4 responses

• United States
17 Feb 09
That's a really neat photograph. It's similar to the one of Bill Clinton as a teenager at the White House shakiing hands with JFK. Wonder if there are other photos out there of presidents crossing paths with young future presidents? (Other than the ones who were related, of course) Thanks for posting this.

• India
17 Feb 09
Wow... thats the best part of the technology these days .. nice job sharing the pic with us... it just lifts up our morale .

• United States
17 Feb 09
I remember reading a story about Roosevelt's boyhood and how sickly he was with asthma. One can only imagine that at the moment this picture was taken how things would change for him.

• United States
17 Feb 09
Very cool picture. I never knew this was out there. Thank you for sharing it with the community.