Have you seen Slumdog Millionaire? Will it win an Oscar?

India
February 16, 2009 11:27pm CST
Have you seen Slumdog Millionaire? If so, did you like it? And why or why not? I did see it. I liked it. This is because it had some fresh faces and a fresh story which held one's attention throughout. It was a new kind of movie. It has already won a lot of awards. It's also up for a lot of Oscar nominations. Do you think it will win an Oscar? If so, for what category?
8 responses

• India
17 Feb 09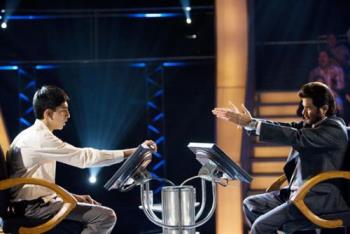 wow i like this pic very much yes it have a power to win this time oscar i hope so cuz i like this movie very much and what a tra acting done by that boy and anil

• Lucknow, India
27 Feb 09
Yes. I think it will win many Oscars. According to my Guesstimate, I think it should win 8 Oscars. Lol. By the time you read this reply, the oscars are already over and the results declared. It is a good movies which shows the dark underbelly of a city. This story can really apply to any city/town anywhere in the world since these basic evils/problems exist everywhere and are not India-centric. The novel is a very well written one and the director/producer did a good job bringing the novel to life through the visual media. All the actors/actresses did a fantastic job of bringing the two dimensional characters to life and making it seem like a true story almost. there are millions of underprivilized people who never get the chance to get out of the vicious poverty cycle that they are caught in. The lucky few ones through their own initiave are able to break out and lead a better life.

• India
19 Feb 09
excellent movie...excellent music and excellent technical work....it'll win all the categories its been nominated for

• Philippines
18 Feb 09
I haven't seen this movie but people who watched it find the film very nice, in fact it had won many awards and it is nominated as Best Picture in the Oscar. I don't know if it capture Oscar nod. My bet for Best Picture is either this movie or The Reader.