Do You Consider the Chimp Cartoon Racist?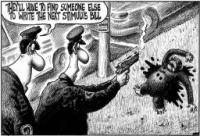 United States
February 18, 2009 1:10pm CST
A Caartoon in the NY Post today has some folks, including Al Sharpton, shouting "Racism." While I am not in favor of shooting anyone for their part in the stimulus fiasco, I do think there was a lot of monkeying around with our future! Some people are only happy when they have something to complain about or something to stir up their constiuency. Sharpton comes to mind! What are your thoughts?
1 response

• United States
18 Feb 09
Racist??? I think it is HILARIOUS...and I think a bunch of monkeys could probably do a better job of saving the economy than most of our politicians are going to do...

• United States
18 Feb 09
I think the intended message of the cartoon was similar to your response. Obviously sometimes unintended messages are sent too.

• United States
18 Feb 09
I couldn't care less if Obama was black, white, green, or red... I couldn't care less what Al Sharpton, or any of those other "Civil Rights Activists" think either. However, Obama was not elected because of his political experience or agenda. The bottom line is that Obama was elected because he is BLACK. The ONLY reason MOST people voted for him is because he is BLACK. Most of the people who voted for him had no idea where he stood on the issues. SOME of them didn't even know who his RUNNING MATE was in the election. They only saw a BLACK candidate, and they voted for him. Voter ignorance got him elected, and now we have to deal with him for at least four years. I assure you that a white man, with no more political experience that Obama has, who attended a church where the preacher preaches a racist message, who has relatives living in America who are illegal immigrants, who accepted campaign contributions from those same relatives, and who came from a nazi/muslim background would not have been given a second look as the presidential candidate, let alone actually have been elected. With that being said, I will agree with you when you say that a lot of times, some people will get a different message from a cartoon or picture or statement that what is actually meant to be portrayed. Of course some people would think that cartoon is a racial attack. Al Sharpton and other people like him, as well as the NAACP, have made a habit of screaming racism any and every time they see an opportunity to make a fuss. I think I speak for a lot of people when I say that I am sick of hearing it. I don't owe black people anything, and they don't owe me anything. I am not responsible for the acts of my ancestors, and they are not responsible for the acts of theirs either. My family farmed and picked cotton just the way the black slaves did. My DAD was born in 1946, and he farmed and picked cotton BY HAND, just the way the slaves did in the 1800's. I don't have a problem with anyone who works hard and tries to better his life...whether they are black, white, or any other race. It is the ones who have a sense of entitlement, who think the world owes them something because they are of a certain race, that I hate...I, nor anyone else in the world, owe them NOTHING...I work for what I get, even though I have a physical handicap. I am not lying around on my A$$ waiting on the government to give me a handout because of my race or my handicap. I guess some people, like Al Sharpton, would rather b!tch and moan...

• United States
18 Feb 09
I voted for Barack Obama. I am white (ish.. no one is truly "white"). I did NOT vote for him because of his skin tone. Had nothing to do with it. And Al sharpton should shut-the-hell-up. He does no one any good, ever. BTW, the cartoon was a riot, IMO.