How many baths a week should we give our babies?

United States
February 18, 2009 6:26pm CST
My daughter will be six weeks old tomorrow. Personally, I feel that two baths a week are more than enough for her at this point. Since finding a formula that she can tolerate, she never spits up, and only has a bowel movement every other day. I've heard people talking about bathing their babies each night before bed, but I just feel like that's too much for a baby that is so young.
8 responses

• United States
19 Feb 09
Congratulations! My doctor told us that two baths a week for a baby is just fine. If you feel that she is dirty or needs a "touch up" then a wet washcloth will certainly do the trick. I understand that a baby's skin is very sensitive and too much washing will only irritate her - not help her. You're doing just fine - don't let anyone tell you differently!

• United States
23 Feb 09
There's definetely days that I think that she needs a bath, but I feel better about just giving her a sponge bath. I'm still nervous about giving her a bath, she wiggles around so much, and I know that a very small amount of water can drown them. It just makes me nervous, especially around her little head.

• United States
24 Feb 09
If you're nervous that's obviously your mother instinct kicking in. Listen to it. If you have someone to help you with the baths, please ask them. My husband and I are always in the bathroom together. It's fun for the whole family and it makes us more comfortable because my son was a wiggler from birth also!

• United States
19 Feb 09
At that age clean her just when she's dirty and with just warm water. You don't need to use soaps that early because they are harsh on the skin and can dry her out. That's at least what our doctor told us. Our daughter is now 6 months and just starting having baths a bit more frequently with soap, because she's now up to foods, and crawling. I would say that if you are going to incorporate it as a part of bed-time ritual that you stick with the same time so she'll get used to it. You can even just give her a sponge bath (I'm assuming her cord has fallen off by now, but if not don't emerge her in bathwater until the cord is off). I'd use no soap for now, and only use a gentle moisturizer if she feels dry. If she's got cradle cap you can use a bit of baby oil on her scalp and a soft bristled baby brush to gently massage the scalp. Hope that helps a bit. Namaste-Anora

• United States
19 Feb 09
Well I have been using Johnson's baby soap, but I think I'll try giving her baths without any soap. When I give her a sponge bath I don't use any type of soap, so I guess it would be okay to not use soap in her regular bath. My doctor isn't the greatest about explaining anything, but I'm also not the greatest about asking questions.

Anyway, thank you for your response and your advice.

• United States
19 Feb 09
Not a problem. And don't worry, you won't do her permanent damage because you bathe her too much or too little lol.

• United States
21 Feb 09
I have a 3 month old, she is my third child. And I bathe her every other day unless she has a lot of spit up on her off day. For us that is the right frequency of bathing. But when I had my oldest daughter her skin was extremely sensitive and the doctor recommended only bathing her every 4 to 5 days. So, what I am trying to say is every baby is different and you need to evaluate the situation and figure out what is right for your baby.

• United States
20 Feb 09
I think you can tell when she needs a bath. Too many baths too often (especially in the winter) will give her dry flaky skin. At 6 weeks old, how dirty can she really get? :D She is absolutely beautiful, congratulations!!

• United States
20 Feb 09
Thank you, I've been trying to catch some better pictures when she's smiling.


• Philippines
19 Feb 09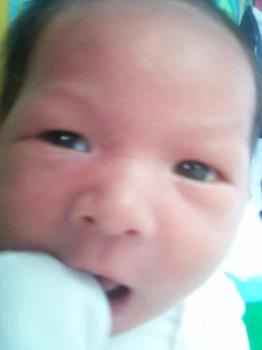 2 baths a week! I don't know about that but I have a 2-month old baby and when he was younger, my doctor advised me to bathe him two times a day! Well, maybe it was because he was suffering from heat rash and his body was far too warm that he needed to be bathe twice. But you know, even without the heat rash, I still give my baby his bath daily, it's what his pediatrician prescribes and that's what I thought was the right thing to do because all my nieces and nephew went through that (Mama said my sisters and I went through the same as well). Nevertheless, I always read that every baby is unique and different treatments should be given. What's good for my baby might not good for you, and vice versa.

• United States
19 Feb 09
I agree that each baby is different and has different needs when it comes to bathing them. Thanks for the response.


• United States
19 Feb 09
I think your doing a good job. Babies at that age don't need to many baths, it's harsh on their skin. My daughter is 17 months old and only get's a major bath 3 or 4 times a week, other nights it's just a real good wipe down. My son who's 6 now he get's them daily, and that's because it's part of our nightly routine. Try not to use to much baby soap on her though, and all those fancy smelly lotions. Happy Parenting!!

• United States
19 Feb 09
A six week old baby could probably go as long as a week in between baths. She's not crawling or walking around getting into things. Wash her hands a couple times a day- because all babies put their hands in their mouths. Wash her face whenever she needs it. You wipe down her bottom when you change her. In the winter I see no reason to bathe a child under 6 months more than twice a week. Now if it were summer, perhaps more often to keep her cool would be reasonable. But winter babies don't need that.

• United States
19 Feb 09
Before we got her formula straightened out, I gave her a bath twice a week, due to the fact that she couldn't keep the milk down. Now that she's no longer spitting up, I give her a bath on Saturdays. That's usually when we go visit relatives, so I clean her up before we go. I keep her hands and neck wiped down several times a day though. And of course her bottom during diaper changes. Thank you so much for your reply.


• United States
19 Feb 09
it's not that they need it that often when they are that young i think, it's just good to start them in a routine. i would say at least 3 times a week is plenty. that is just my opinion and i am no expect.

• United States
19 Feb 09
I think that the routine part is definetely a great idea. Especially when she is doing so well with sleeping through the night. I guess I just worry about her getting too cold and getting sick. She's been lucky so far to not have any colds or runny nose. Thank you for your response.