One of the best Vampire movies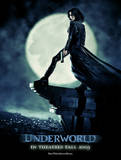 United States
February 19, 2009 11:57am CST
I honestl think that the Underworld movies are te est vampire movies out there and the dipiction of the war between the two is great. This movies sow both sides of the war and the love story is great the star crossed lovers and all just make for great enertainment.
4 responses

• Indonesia
31 Mar 09
I think i agree with you, my best Vampire movies is Underworld 1 or 2.Kate Backinsale very cool in this movies. I love the scene of vampire fighting with werewolf very entertaining. I had rumor that Underworld 3 are disappointed, have you watch it ? if it the rumor is true that very bad. It will erase the popular of the film

• United States
2 Apr 09
i have yet to see the third one but i have heard that it is not that great but some say that is ok it gives more background on the other two but still i would like to see it for myself i mean come on if you have seen the first two might as well see the third but here is hoping that it is not that bad lol

• Singapore
13 Mar 09
I love the entire series, specially Kate Beckinsale. She was just steaming hawt with that costume of hers...and I love the story as well ;o)

• Portugal
20 Feb 09
I really liked Underworld a lot when it came out, so I bought it, watched it a few more times then when Underworld Evolution came out it took a little of the shine off for me, the same applies to Blood and Chocolate which deals with the lycans, I am reserving judgement on Underworld the Rise of the Lycans. If you want really scary vampire stories 30 days of night is pretty cool, the more romantic version there is always Twilight. One of my favourites is the oldie Bram Stoker's Dracula which I have watched several times then there is always Blade I have all 3, the opening shower scene in the first one stills gives me goose flesh every time I see it. There are several more vampire movies but you are right the idea of the lycans being at war with vampires is one of the things that made this movie for me.

• United States
19 Feb 09
I love these movies so much that I went out and bought them, now I can't wait for the new one. Another vampire movie I find very good is John Carpenter's Vampires. If you like vampires, lycans and romance you should try reading the "Anita Blake: Vampire Hunter" series by Laurell K. Hamilton.. these are great.. I read them then read them again. I wish these books would make it to a movie.