Received Payment for The Cash Grab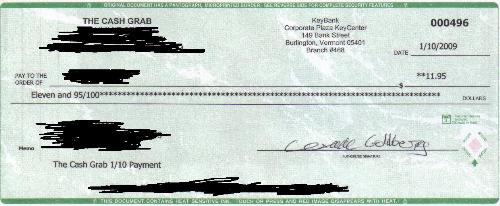 United States
February 20, 2009 7:26am CST
Well I just wanted to let everyone know that this site does indeed pay. The site is call The Cash Grab and you can go to my profile and click on my website link to view more info or sign up if you like. I like them a lot because you can get paid every two weeks and they pay by check or Paypal. So if your looking for more ideas on how to make money at home this is one of the good ones. I love getting checks in the mail its fun to check the mailbox and a check is there waiting for you!
2 responses

• United States
20 Feb 09
hello moneymommy congratulations to you on getting paid from the cash grab's website. i have never heard of that website before. i just went there to check out the website and i do not think that i will sign up with them, i am not much into filling out forms for offers like that. but that is good for the folks that are interested in that website and can make payout every two weeks like that. and i hear ya about getting extra money in your mailbox or through paypal's website. either way, it doesn't matter. i am waiting on a thirty dollar check that i recieved from a website called creations rewards. it said that my thirty dollar check would be processed on March 2nd, and then followed by that will be my Mylot transfer into my paypal account. whoo hoo! keep those new discussions coming! take care and have a beautiful day today!

• United States
20 Feb 09
I signed up with all the sites that I have listed and I try to do them everyday. So far I am waiting for 3 checks, 1 gift card, soon I will have paypal payments and some alert pay payments to! Its so fun!