She is blind...... but she is genius. A normal person can't beat her in math.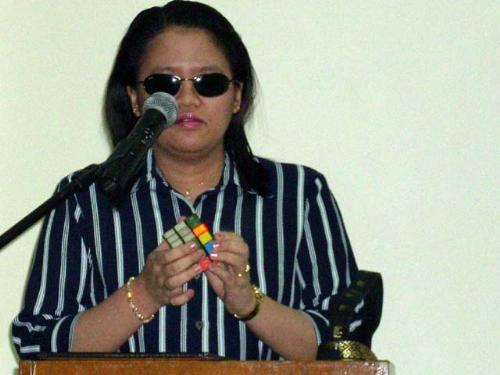 Philippines
February 23, 2009 2:46am CST
Find time to read this link. http://www.pinoytexas.com/blindgirlstory.htm It is a very inspiring story. Will you be happy to be in her place? Will you be happy to live blind but intelligent for the rest of your life?She is really amazing, she could do the rubiK's cube. Her dad put on braille lines on the cube. She has a computer that talks. Honestly, I still consider myself lucky, I may not be the genius but at least I can see what I want to see. Happy Mylotting!
1 response

• Sweden
23 Feb 09
I do't understand what makes her special - okay she's smart - and that's good for her - but the fact that she's blind doesn't make it any different. I guess I would rather be blind than a genius;-) I would like not to get blind, but if I do - I'll learn to live with that. I think it's more amazing that some people can swim with no arms nor legs ;-) Since I consider myself kind of intelligent I guess I would be happy with my life even if I got blind. The hard part would be to learn braille since I have not that good sensitivity in my finger tips. There are tons of great help to get when blind, when it comes to comuters there is both speak and braille avalibe for reading te screen.

• Philippines
24 Feb 09
If you have seen the link you will learn that she's been blind since she was five but she was able to excel in school like a normal person and she was even able to beat a normal person by excelling academically. From elementary to college she is a consistent high scholar. Imagine a blind competing with a normal person in mathematical computations. Imagine a blind beating all the normal persons intellectually. If you will spend time reading, you will be surprise on how smart this lady is.

• Sweden
24 Feb 09
I don't think she's better if she managed this just because she's blind - I did read the story! I wouldn't think shemade anything really good if she was blind and had no legs. I think all students that does their best is "special". She has a great head - and she uses it fully.