Ten thousand words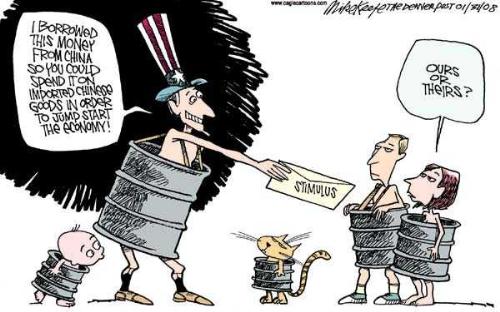 United States
February 24, 2009 9:08am CST
Yes, it is true. Often times it is said that a picture is worth ten thousand words. Here's one worth at least that many maybe more. Please click the attached image to enlarge. I say that Uncle Sam and the citizens wearing barrels for clothes in obvious poverty says quite a bit. The question asked by the citizens is particularily profound. A great insightful cartoon. What do you say?
6 responses

• United States
26 Feb 09
This reminds me of one of James Taggert's points of View in 'Atlas Shrugged' by Ayn Rand. We have a moral obligation to go bankrupt to help poor old China (Mexico).


• United States
28 Feb 09
Yer example is true, I am pointing out that we as Americans have no economic obligation to China.

• United States
28 Feb 09
Actually, if paying off Treasury Bonds is an economic moral obligation, then we have a huge moral economic obligation to China. China has invested heavily in US GOVERNMENT dept. We have an economic moral obligation to pay it off. This debt and our possible future willingness to default that debt and moral economic obligation could be the unspoken indirect cause of a future war between the U.S.A. and China.

• United States
24 Feb 09
I can relate to this so much. I went shopping today. It was like all other shopping days, but it does get worse. Now so much make-up is made in china..and now food. I cannot get mandarin oranges in a can that does not come from China. Fish...lots of fish from China. It will get to the point where you cannot get food from the USA. Forget shoes and sneakers. I have two pairs of footwear. A pair of dress shoes...and a pair of sneakers. These sneakers are so old but I have no choice. I will not buy from China. The stores will not have sneakers or shoes from anywhere but China. I cannot buy them mail order...I must try them on.

• United States
25 Feb 09
I confess that I do buy made in China products. More power to you. It is admirable to not buy MADE IN CHINA but I'm not disciplined enough to do it.

• United States
25 Feb 09
Watch out for those shoes and flip flops...those are some of the worst...besides kids toys. http://www.truthorfiction.com/rumors/w/wal-mart-flipflops.htm

• United States
1 Mar 09
Thank you for best response!

• United States
2 Mar 09
I say that poor family in the picture better take the thirteen dollars in that envelope, run to Goodwill and buy some clothes, pronto! And they better feed that poor cat before the rest of his fur falls off.

• United States
2 Mar 09
I wish we had a GOODWILL store around here. It would be really handy.

• United States
24 Feb 09
I love the idea that Obama can spend in one bill over 700 billion dollars that has to be either borrowed from a different country or created out of thin air yet Obama is now champion fiscal responsibility. We heard over and over again that our economy must have this spending bill, yet we never heard anyone ask who would it help more, us or them?

• United States
24 Feb 09
Surely, a serious economic analysis of the question,"Who does the stimulus help the most?" would be of value. It does not help the American citizen in the long term.

• Australia
7 Mar 09
I agree that it's a great cartoon!

I wonder if the barrels have an even more sinister undertone of metaphorical reasoning still yet unmentioned? Are the citizens of the US soon to become panicking schools of fish, swimming in said barrels? I'd say there'd be no shortage of nations willing to take that first shot. And look at some of the local powers that be, preparing to hand out the bullets too! It's such a simple statement in that cartoon, but it definitely speaks volumes.

• United States
7 Mar 09
LOL... fish in a barrel? You are a genius.

• United States
8 Mar 09
There you go. A certified genius!


• United States
7 Mar 09
Good one, Red! Though, I gotta' say that those barrels are probably worth quite a bit more than the price of cheap Chinese clothes that could be purchased at the dollar store. Had this exchange occurred a few months back, when scrap metal prices were so high, I'd have been worried for those people. Woosh, a thief coulda' come up like Speedy Gonzales and snatched those barrels right off of their backs. Geez, then those poor folks would be shivering in the cold in their birthday suits. And then Uncle Sam would have had to dispatch law enforcement to cite those poor folks for public indecency. See, there's just no winning for losing!