Kate Winslate got an oscar at last!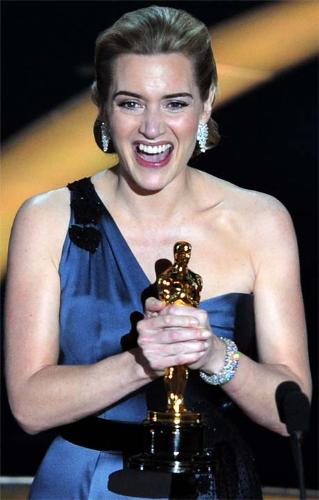 India
6 responses

• United States
26 Feb 09
Hello Little_Boy! I like Kate Winslet too. I started to like her when she portrayed Rose in Titanic. I was even sad because she didn't win as best actress there. I am glad that she finally won it. I am so happy for her.

• India
26 Feb 09
You Also like Kate? Me too! I like the blockbuster movie Titanic also. Do you know which scene from Titanic I do like most? hehe! When the hero was drawing her picture.....

Mind blowing scene!

• United States
26 Feb 09
oh...so that's your favorite part of titanic..mine is the last part...hehehe


• India
26 Feb 09
You know well what Little Boys do!

Today here....and...tomorrow there! Na? I am really very much naughty boy

and wander from here to their. Very good to know that someone misses me when I am absent from myLot. Actually I had been busy with some other work. For this, I am not active in myLot like before. But I also miss myLot and myLot friends. Best of luck. Thank you.

• China
26 Feb 09
I AGREE she's a brilliant actresses,but i just don't see what's big deal about Oscar,oscar only awarded 'save' film,you know what i mean ,film that's not controversial,and not fully objective.

• India
26 Feb 09
I love Kate a lot, so was really glad that he got the oscar this time. I loved her speech too - it was humorous, honest and interesting. She truly deserves the trophy. She has excellent screen presence and acting skills. I look forward to more of her works.

• Philippines
25 Feb 09
Kate is a very good actress and she really deserve the award. I watched Oscar awards last Feb.23 (philippine time) and I was happy she won at last.

• Beaconsfield, Quebec
25 Feb 09
I think that Kate Winslet is a really amazing actress. I was really happy for her, when I heard that she FINALLY won an oscar. I was beginning to get annoyed for her. She deserves her oscar, in my opinion. It was about time that she wins an Oscar. I was really hoping that she'd get it this year. I was keeping my fingers crossed.