what are you smelling...right now?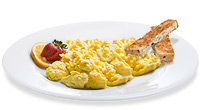 Canada
March 1, 2009 8:36am CST
STOP!!.. we take our senses for granted..take a moment and breath..in..what are you smelling?I'm smelling.. 1. The coffee from my cup 2. The toast am about to eat 3. The jam on my toast 4. The perfume I have one 5. The fresh air coming from my window 6. The spray net I put in my hair 7. Smelling in my imagination the great meal am going to eat at the restaurant.
6 responses

• Canada
8 Mar 09
I'm smelling the rice with garlic that am making yummy

• Canada
8 Mar 09

What a coincidence that is what I had for supper but had added chicken noodle soup in it..


• Canada
3 Mar 09

I smelt at lunch..macaronie soup with beef I smelt my club sandwich but took out the pork I smelt my french fries I smelt my Black Forest Cake I smelt my coffee

Yoummmmmm.

• United States
1 Mar 09
I have a Lilac candle burning right now and that is what I am smelling it smells exactly like the Lilac flowers in the summer,I love the smell of fresh Lilac.you have a great meal.

• Canada
1 Mar 09
oh..

am using my sense of imagination and it smells so great..thanks..am smelling my great

meal I made right now and my stomach is very

happy

• United States
1 Mar 09
I just took a nice shower a minute ago. So what I am smelling is the scent of my black soap. Then I put on some great body spray. So that as well is what I am smelling. I would love to smell some friend fish right now. I love your post its one of a kind.

• Canada
1 Mar 09
Thanks..well I thought would be nice to put something different and make ourselves concious of how blessed we are to have different senses. Right now am not smelling anything but my perfume but my stomach..must be smelling want of food..it's growling..lol.

• United States
1 Mar 09
Yes, we all do take our senses for granted , and what a shame it is . Right now I'm smelling the breeze. It's a windy morning and it had just rained a little . I'm smelling the salt air from the gulf of mexico with the fresh smell of rain. I can still smell the smell of breakfast that I cooked an hour ago from the kitchen. I'm also smelling the scent of my perfume that I dabbed on my wrists when I got dressed this morning .

• Canada
1 Mar 09
Isn't that wonderful..just stop..close your eyes and resmell all you have written..let them come alive in your mind..watch how your body reacts..then lift up your hands to Heaven and say..thank you. www.cryofthespirit.com go see the movie of my poem THANK YOU

• Canada
2 Mar 09
right now am smelling the great meals you used to make for us ..especially the chocolate cookies and the sugar pies