Agony of A Mother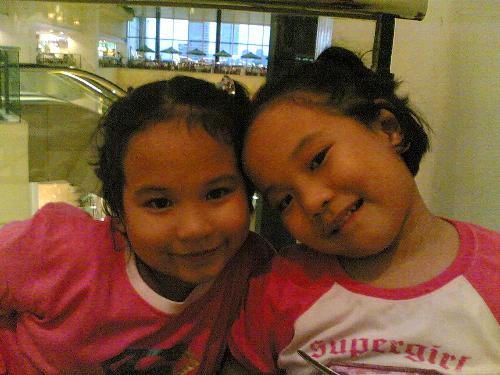 Philippines
March 1, 2009 11:36am CST
No one wanted to be compared. I don't! Growing up, I had my share of being compared to my older sisters since they are all more beautiful than me. Over the years, i have outgrown hating the comments I heard from people that my sisters are all more beautiful than I am. It was a good thing that my parents never let me feel that way (though I know that people are just stating the obvious!

). Now as a mother, and not only as a mother, but as a mother of twins, I am faced with the same problem. I never knew how difficult it is to hear that the twins, no matter how identical they are, are also being compared with each other. One day, after school, I found my daughter Ryz crying. She asked me, "Mommy, am I beautiful?" Readily I answered, "Of course! Why do you ask?" Between sobbing, she replied, "Coz they all say that Tammy is beautiful." From her answer I felt an arrow shot right at my heart. The flashback when I was growing up went back to me at once.I felt crying as well, because I know that is not a simple thing. On the other hand, though they have talents of their own, right now, from another point of view, from outside looking in, I would say that Ryz is more talented than Tammy. She is a consistent honor student.And since she is a go-getter, she is determined to finish what she has started, making sure that it is a good one. She already has her own folder here in my computer. She already wrote a novel entitled "The Little Reptile." And the story is so heart-warming! manually, she already made a lay-out of the pages. She draw pictures as well as illustrations supporting the novel. Last week, she composed her very first song which is entitled "When I Feel So Sad." It could pass as a love song but reading the lyrics,I felt the emptiness even more. I know that she is still being compared to her twin sister...and her sister Tammy to her... If only I can grab the tongues of those people who are careless enough to speak their minds in front of the innocence of the twins. But I know I cannot control other. And being a mother, I can only do so much...

4 responses

• United States
1 Mar 09
it could be that because Ryz is using her brains more that she is being judged unfairly as a smart kid. And of course everyone knows smart kids are geeks and nerds. (Thats what children in school think) I think both your girls are beautiful and so are you. Beauty is in the eye of the beholder. Just keep telling them both they are beautiful an if Ryz needs extra reassurance then give it to her. Thats all you can do. Give them lots of hugs and love.

• Philippines
2 Mar 09
Hi Mssnow, You made me cry...Thank you for feeling what I'm going through. I've talked to each kid separately. For Tammy, I told her that if she hears comments that she is more beautiful than her twin sister, tell them that since they are identical twins, they should look the same and Ryz is as beautiful as she is. For Ryz, i told her that whenever she is doing something, ask her sister to do something with her or for her like draw something so it can also be applied to her recent work like another story. She also has to tell others that her twin sister is equally talented. For both, I always tell them that they are complements with each other. That they can work good separately, but they can work better together. Thank you by the way for your compliments. I already sent your hugs and love to them. I really appreciate this response. It made me realize that the agony I am going through is not that big at all.


• Singapore
19 Mar 09
Beauty is really in the eye of the beholder. Assuring your child that they both have their own talents and qualities, they know better than to listen to other people. Let them say what they want. As long as they have confidence in themselves, no one will be able to shake them from their ground when they are older. Some people are like that. They just have to compare in order to make themselves feel better. Teach your daughters to ignore them. They are better than all those people who made those comments. Again, beauty is in the eye of the beholder. If they do not know who to appreciate beauty the way you see it, forgive them, for they are ignorant.

Your daughter is already into writing and composing and illustrating? Wow...


• Philippines
19 Mar 09
Hi ahgong, This may be one of the pride of parents like me, seeing their children develop into a well-rounded individuals. I feel it is my obligation to provide them the best that they can have, the best that the world is offering them. So whatever interest they are showing I give 100% support. There is a feeling of extreme satisfaction when I see my kids excel on the things that they love to do. I just pray that I still have the strength and the means to conitnue supporting them until they grow up to be confident individuals ready to face the challnges of the world.


• Philippines
2 Mar 09
it's difficult to be in your situation but there are solution though to it. . . When I was growing up, I hated when I was asked why am I shorter than all my sisters. Physically, my sisters are all better looking than I am. Instead of dwelling on those negative thoughts , I asked myself where I'm better compared to my siblings. Then I focused on it and got some confidence later. Help develop Tammy where she is strong at.

• Philippines
2 Mar 09
The good thing about Tammy is that as long as she is beautiful... she doesn't care!

But she is also into arts. Right now both of them are enrolled in voice lessons. This summer they might take some other extra curricular activities. Ryz already told me to buy her a guitar and i like the idea.

• Philippines
2 Mar 09
She will surely overcome that "beautiful me" persona when she gets more mature and when her talents will be discovered. God bless.

• Philippines
2 Mar 09
It looks like the twins are beginning to have their own identity which is good, the problem is i don't think they can handle negative comments yet. That's why there are mothers right? They're just kids. Eventually, they will grow up to fine beautiful ladies with character of their own. One could be classic beauty, the other could be the cutie. Those people who compare your kids must be the one who needs growing up. I checked their photo and all i can say is that they're equally beautiful. Don't dwell on it too much. Don't invite negative vibes.

• Philippines
2 Mar 09
Hi Modstar, Thank you for this insightful response. At a tender age of 8, it really is a delicate time for the twins to even hear negative comments from those "who need growing up," as you put it. It is a challenge I must face to shield the twins from negativity while keeping a balanced emotion to cover them with all my love...