Do you remember Live 8?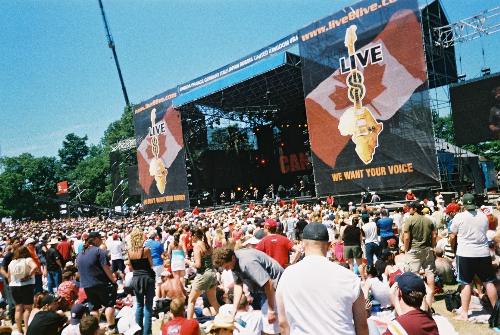 Canada
March 2, 2009 6:40pm CST
Hey, I was just browsing through my pictures and I came across a few from Live 8 in Canada. I was at the one in Barrie, Ontario, Canada and there was something like 30 000 people there I believe. It was really amazing, going there to see somewhere around 15 to 20 bands for FREE! Not to mention, it was all for such a good cause! Anyways, Im just wondering which of you fellow myloters have either been to Live 8 or seen it on TV. If you havent even heard of it for some reason, I will give you a little bit of information off of my head.. Live 8 happened on July 2nd, 2005 in all of the G8 countries, as well as South Africa: United States, Canada, United Kingdom, France, Germany, Japan, Russia, and Italy I believe it was. There were seperate concerts that were all going on at the same time, with many many bands playing. It was a bunch of famous bands playing for free, but to raise awareness for poverty in Africa. I guess there isnt much more to say about it, just that I was so very glad to be a part of history, and to actually be there. I saw some GREAT bands! Anyways, thanks for your time reading this, enjoy!
No responses