I think I am going through.....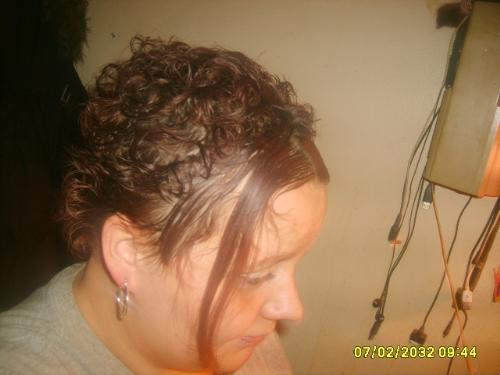 United States
March 3, 2009 3:25pm CST
My first mid life crisis lol not sure but pretty sure! I just went and chopped my hair off that I have been growing for like 3 years now lol but I like it now and most of the time I feel like I am going nuts lol so... mid life crisis is the only thing I can think of lol lol I have added a pic with my new hair cut...
3 responses

•
4 Mar 09
sxrxnrr, Yeah I went through I think mid life crises a while back and cut my hair short now I wouldn't grow it again because I love it this way and its growing again, its need cutting again and I will have to get my friend to cut it as she is my hair dresser. Hope you are feeling better now. Tamara

• United States
4 Mar 09
sx I just checked out your new Do and I think it is really cute. I really love the curls, are they natural? I just chopped the top and sides of mine off as well. The back isn't real long but I try to keep it a little longer in the back because of hubby. Here's the thing. If you have turmoil in your life, you feel out of control. You are searching for a grip on life. So we take something we can control of, like cutting your hair and do it. It helps make you feel like not everything is out of your control. Life is a constant turn of events and there will be times where you feel completely in control and times when you don't. Take a step back and try to take a break. Enjoy your new hair cut and do a few more things for yourself if possible. Things will start to come together just don't stress yourself too much. Hugsss leenie

• United States
5 Mar 09
Yeah I think you may be right there lennie lol right now I feel like I am losing control of a lot of things in my life at the moment I feel like I am losing my mind here lately my friend said it might be early menopause because I had my tubes tied and I am 32 not sure but I wish something would give

• United States
5 Mar 09
o yeah the curls are all mine lol natural lol

• United States
5 Mar 09
I think your friend is right. It may be early or premenopause. I started mine when I was 35. If things don't calm down soon, you really shoud go see your doctor, preferably a woman doctor. Try not to stress out. And I di love your curls. Hugsssssssss leenie

• United States
4 Mar 09
Woman seem to focus on our looks more than our inner self. One way we change ourselves for our feelings is to either cut or color our hair. It is an ego boost. But sometimes we scare ourselves because we may not like what we did. But we do have the security of knowing that we can always change it back or let it grow out. Enjoy it.