what's the "sweetest" chocolate?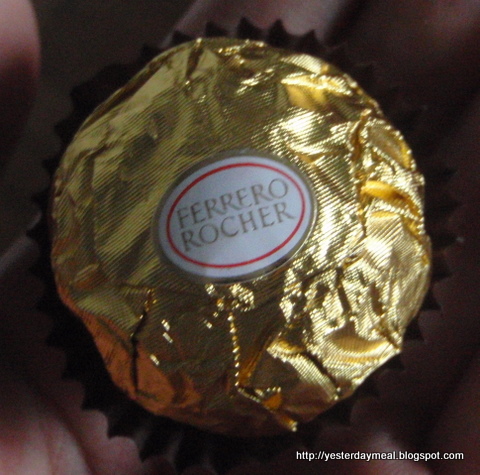 Philippines
March 3, 2009 6:44pm CST
I'm not referring to the taste, but to what the chocolate represents. I've always thought Ferrero Rocher is the "sweetest chocolate" because I've only received it during Valentine's Day and it seems to mean that the guy who gave it to you likes you - not like receiving Hershey's Miniatures, which can be given without special meaning:)
7 responses

• Pakistan
5 Mar 09
Well, I don't know how it feels to get a chocolate for valentine, since my country doens't celebrate it, but I do know what the sweetest tasting chocolate is! I haven't tasted many brands of chocolate, so you might have another opinion, but I would say that the sweetest tasting chocolate is, CADBURY'S. :)

• Philippines
6 Mar 09
Aside from Ferrero Rocher, I find Lindt chocolates good to be given to your special someone. I also like the big Toblerone packed in big triangular boxes. Last valentine's day, I got three kinds of Toblerone, the dark, white and the original. My boyfriend is so sweet to have all the flavors be given to me.

• Philippines
6 Mar 09
Oh ye, I almost forgot about Toblerone. Yeah, they're popular as "lover gifts" :) And I didn't really know about Lindt until I received a packed from my boyfriend. I love the taste, but I'm almost always on a diet so I only eat one once in a while, I still haven't finished the big container of Lindt that he gave me - it had EXTRA dark chocolate flavor!

• Australia
4 Mar 09
I have never been one to go crazy over the expensive chocolates, I have a neice who works in a chocolate making place that use good belgium chocolate but I still prefer the cadbury chocolate, I just think it is the nicest and creamiest chocolate you can get...

• United States
26 Mar 09
Hello oyenkai! For me, the sweetest chocolate is "Toblerone"..lol! Although I also received a ferrero chocolate on valentines, still Toblerone is the best for me and that I would very much appreciate if someone will give it to me that's why, it's the sweetest for me.

• Philippines
26 Mar 09
yah me too :) hehe though sometimes if hubby is in the mood he will give me just 3 pcs of ferrero rocher (those in packs right hehe i think minimum is the 3 i saw it in a 7/11 store

) and aside from that you answered it already hihi.. the macadamia chocolate in box..hmmmm yummy yes sometimes on those special occasion these chocolates appeared LOL happy myLotting!

Godabless!0=)

• Philippines
26 Mar 09
According to my mom, the "sweetest" chocolate to her is the "Swiss Delice Sugar-Free Chocolate" I don't know why she claims it too sweet


• India
26 Mar 09
I like different tastes of chocolates. Dairy milk Fruit N Fun is one of my favorite chocolates. I remember getting some chocolates and sweets from one of our family friends who had been outside in a foreign country. I doesn't remember the name of the chocolate. I think there are lots of good chocolates in the world.