I have a rubbish job!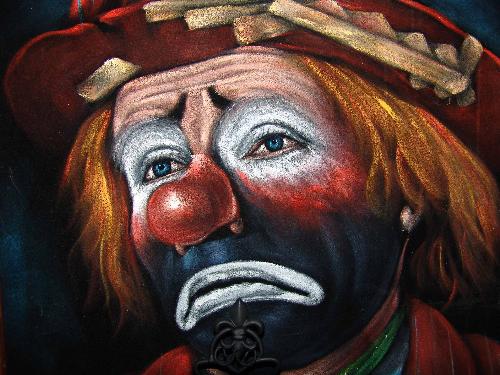 March 4, 2009 3:19pm CST
My job has been responsible for the break up of my marriage and is ruining my life. I work as a clown for the circus that is 5 miles from my house. The money is poor and as it is a very physicaly demanding, there is very little laughs to be had. My wife cannot stand the smell and has had enough of me coming in stinking of custard pies and tripping over my size 54 shoes. She has run away with the fishmonger. She left me a note saying I no longer made her laugh. When i travel to work each morning people point and stare at me as i weave between the traffic on my 8 foot tall unicycle. I find this humiliating. Yesterday at the traffic lights i sneezed and nearly blinded a pensioner with my red nose. I do private childrens party's in the evenings to help pay the bills. When i go for a drink later on people always try to pick a fight with me by making comments like "who's the clown at the end of the bar?" Maybe i should move somewhere warmer. Do you have a shortage of clowns in your country? Or do you just have a rubbish job?
3 responses

• United States
4 Mar 09
boo hoo, boo hoo.......another sad clown story. when i went to clown college, i used to always get in trouble for playing the straight guy in class. did i whine and complain about it??? NOOOO!!!! i just squeezed into the clown car with my 47 clown friends and went on with my life. so go on, grab your seltzer bottles, make yourself a nice smiley face balloon animal, and most importantly.........WAKE UP AND SMELL THE SQUIRTING FLOWERS!!!

•
4 Mar 09
If you had feet the size of a walrus you would not be so glib!!!! I am not allowed a dog as a pet, oh no...i have to have 5 ponys and only if i run across thier backs!!! my life is hell! my best friend put superglue on the saddle of my 8 foot unicycle. do you know how much that hurt when i 'jumped' off and landed red nose first in a cow pat with a large unicycle up my butt? i now suffer fron sphincter trauma.

• United States
4 Mar 09
sure Goodie.....Ha Ha......laugh at the clowns......can't we ever catch a break???

• United States
5 Mar 09
OH GREAT!!!...........another F
@
#KING best response when what i REALLY need is a new rainbow afro wig. thanks anyways.



• Slovak Republic
3 Apr 09
your ex-wire beffore marriage hadn´t known what´s your job like?? if it nevermind herself but later she cannot stand it...

• United States
31 Mar 09
Thanks for the laugh! You are very commical and I would bet that you are a great clown. Just remember that everyone laughs when they see you and so you are helping to make them have a better day. Maybe they figure that the pie in the face is your laugh of the day. Have fun and keep up the great discussions.