my gosh..my cat is peeing blood

Canada
March 5, 2009 6:54am CST

I got up and saw my cat inside their drinking bowl ..large one for dogs which was empty and he was peeing ..so I wondered what the heck and I saw blood..then I saw blood here and there..so I put him in a room upstairs so he doesn't do it all over the place and will rush to the vet this morning..oh

I am afraid.that it is his kidneys...he such a wonderful cat...and I have a doc appoint too..am going to bring him to the vet at the same time..
9 responses

• United States
5 Mar 09
hello dancingredfeather i am so sorry to hear about your cat peeing blood like that. that is awful. i hope that there is nothing seriously wrong with him. please do another discussion when that you get back home this afternoon and let us all know around here at Mylot how that your cat is doing. and i wish you good luck at the Doctor's office today yourself. i am saving up right now in need of going back to a Dentist around here close by to where that i live. i have been rinsing in peroxide during the day to keep the swelling at bay. lol it is awful to have any kind of pain that our bodies can experience like that. i cannot stand to be in any kind of pain. and i have even passed out at the Doctor's offices twice before in my life time. lol

your going to do what to me? don't think so, i'll pass out on ya. lol take care and have a beautiful day today!

• Canada
5 Mar 09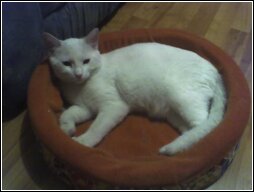 Was he ever!! all over the place..poor thing..the injection seems to be working fine..already..i saw him pee and no blood..the vet gave him pain killer also..and he seems to be fine..I brought him on time..I called two vets ..one was for 3 and the other said come..now..so I went ..cost me 105.09..but who cares..that is why I have a credit card..for emergencies.wowow u pass out! My you must be scared..

Thanks for caring..I appreciate it very much. MyLotters are very caring people..

• United States
5 Mar 09
I don't what to tell you that would help. I just want you to know I have a cat as well. he is pat of my life now. I hope your sweet one will be ok real soon. Good luck at the vet.

• Canada
5 Mar 09

thanks..I went to the vet..got a needle of anti-biotic, pills for pain and will change the food..although I do have a good brand but I will change it anyway..

• Philippines
5 Mar 09
aww... hope your cat's alright...

• Canada
5 Mar 09

Took him to the vet ..called one vet but couldn't take me before 3 pm..I didn,t want to make him wait in pain that long ..so I called another one and they told me to come right away. The vet examined him and I was lucky..he wasn't blocked and had no crystals so far..he gave him a shot and a pain killer which I also have to give to him and watch him as he will pee blood for a couple more days. The vet was happy I brought him right away..I said ..I don't care the cost..I can't stand seeing any of my pets in pain..

I'm very careful to buy food that there is no ASH as it causes uniary problems..and I do buy food that helps with making sure no unirary problems ..I will change brands and maybe it was just a thing that happens as the vet says that it happens mostly in males.


• Canada
5 Mar 09

Yes Pica is much better ..the injection worked and the pain killer also and I haven't seen him pee blood, though the vet said he probably will but as long as it slows down it will be okay..am to watch for few days how he is doing and hopefully that he passed the crystals..he wasn't blocked when I brought him and that is because I brought him right away.

• Philippines
6 Mar 09
Oh,dear.Hope your kitty's much better now.

• Philippines
6 Mar 09
Your cat is very lucky to have you around to take care of him.

• Canada
6 Mar 09

Thanks for caring..oh yes I went to the vet immediately and didn't care what it cost. Poor thing was so in pain..and spewing blood everywhere. now he is happy

• United States
5 Mar 09
My kitty had this along with an increased frequency of urination. We switched her instantly to a different dry cat food. Her problem was Urinary Tract Infection. Most dry cat food has lots of bone meal in it and causes this problem frequently in cats. We switched to a food that helps for cats with UTI. It's made by "Dad's" although other brands may make some also. You could try this. With our cat, it cleared up immediately and this is the only food we use now.

• Canada
5 Mar 09

Yes, am going out at 2 pm and buying food for that..I usually did but everytime I wanted some the shelve was empty..so am going to check another brand even if I pay more..less expensive to buy food more costing than the cat suffering and vet bills..cost me

105.09 this morning.

• United States
5 Mar 09
Wow! That's expensive! We were surprised to find the "Dad's" food since it is a cheaper name brand. I know that there are some other cheap brands that make some although I can't remember which ones off hand. I think it will be a matter of which ones your store chooses to stock. We have been lucky in finding this one and we sure hope the store never stops carrying it! We shop at Kroger, by the way. Don't know if they are in your area but I suppose it could even vary anyway from store to store. Best wishes!!

• Canada
8 Mar 09
Am sure that Pica will be fine..my mother is a health freak! hahaha.. she has 6 cats and loves them like crazy..well they are in good hands that's for sure.

• Canada
8 Mar 09

Yes, he is getting better and I gave him a drop of oil of oregano with olive oil and that seemed to do the trick..am going to give more tomorrow.. boy now mao is in heat and climbing the walls..wanting a

mate

• India
6 Mar 09
woah that is shockin u shud get an apointment w/ the vet asap n let us knw wht happens happy lottin and have a nice day!

• Canada
6 Mar 09


I did. He is doing great..the bleeding stopped and I just gave him a pain killer..thanks

for caring

• Australia
6 Mar 09
G'day DancingRedFeather. Your poor kitty. I'm so glad he is ok now...thank goodness you reacted as quickly as you did and were able to get in to see the vet straight away. I hate to think of animals in pain. I hope the new food will fix the problem. It seems to be a common problem where you live, I've never heard of it before. Brightest blessings.

• Canada
7 Mar 09

I wasn't able to find the food I wanted..he still is peeing a little blood as the doc said he would and it should be over by monday..I hope and pray. I'm giving him natural medicine to help also to cure him..oh it is common in male cats apparently..