What is your favorite type of pizza?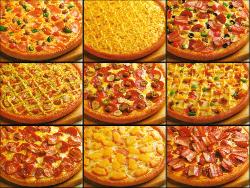 United States
November 10, 2006 9:25am CST
Sausage, pepperoni, cheese........etc
5 responses

• United States
10 Nov 06
I think I had that before, but I can't really recall it.......thanks for responding

• Australia
16 Nov 06
i love hawaiin, with chicken & capsicun.My fave, yummy!!!!

• United States
16 Nov 06
Extra, extra chees, mushrooms, black olives, green peppers, and tomatoes, and sometimes i add bacon bits. now thats a good pizza!!! Usually i only get that as a treat though, most of the time if i order i get extra, cheese, cause you gotta love cheese pizza!!!

• Singapore
16 Nov 06
Sausage and pineapple , hawailian pizza rocks